Sports Betting ETF Hits Record on Cuomo's Legalization Support
(Bloomberg) -- The biggest sports betting exchange-traded fund rallied as New York Governor Andrew Cuomo announced that he will support legalizing these wagers to help fill the state's nearly $16 billion budget deficit.
The Roundhill Sports Betting & iGaming ETF (BETZ) jumped as much as 4.4% to an all-time high. One of its 39 components, DraftKings Inc., rose as much as 8.9%.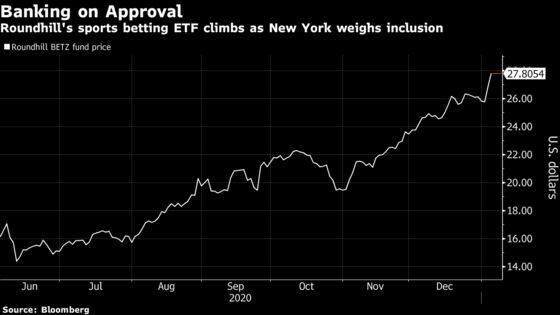 Cuomo, who had previously opposed online sports betting, will call for legalizing it as part of his State of the State policy proposals on Jan. 11, he said during a briefing Wednesday.
The plan, if approved, could raise up to $500 million annually, said state Budget Director Robert Mujica. The neighboring state of New Jersey, which legalized online sports betting in 2018, earned $332 million from it year-to-date in November, up 23% from the same period in 2019, in part due to New Yorkers visiting just to place bets.
Read more: Surging Sports Betting Taxes Replenish Sinking State Coffers
According to Morgan Stanley analyst Thomas Allen, New York could eventually draw an estimated $928 million in the sports betting market, which he projects could reach a total addressable market of $8.5 billion in 2025.
And Oppenheimer & Co.'s Jed Kelly said that New York's move will likely prompt nearby states Massachusetts and Connecticut to follow in legalizing online sports betting.