Speculative Retail Options Traders Back in Droves, Sundial Says
(Bloomberg) -- Stock option speculators are back trading in a big way, a sign of increased risk in the U.S. equity market, according to Sundial Capital.
Speculative call buying rose to one of the highest levels on record, as a percentage of both volume and market capitalization, President Jason Goepfert said in a note Monday. Net call buying to open -- a gauge of bullish bets -- was in the top 2% of all weeks since the year 2000 and not solely thanks to demand for Tesla Inc. options, he said.
"Money spent on speculative options trades is nearing a record," Goepfert wrote. "Risk just ticked higher for some higher-risk parts of the stock market."
The S&P 500 closed at a record Monday as corporate earnings remained strong and investors bet the economy will continue its recovery from the Covid-19 pandemic. Their optimism has outweighed concerns such as supply-chain snags, higher inflation and the prospect of central-bank tightening.
Increased retail option activity can often be a sign of mild to moderate trouble for equities, Goepfert said, noting that when speculative volumes spiked last fall, stocks experienced a modest pullback. When volumes spiked again in late January and early February, the major indexes didn't suffer very much, but so-called meme stocks and small-caps got hurt, he added.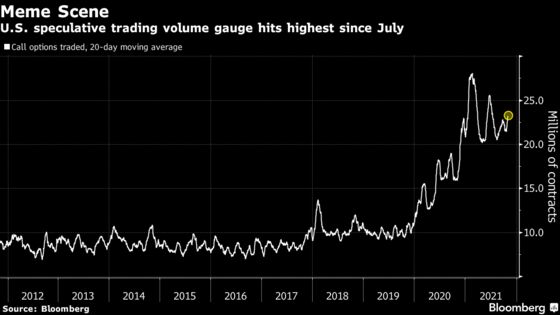 The 20-day moving average of call options traded in the U.S. stock market -- a gauge of speculative demand -- has climbed to levels last seen in July, according to data compiled by Bloomberg.