Spectrum Brands Sinks to Lowest in 5 Years on Weak Fourth Quarter Results
(Bloomberg) -- Spectrum Brands Holdings Inc. sank to the lowest since July 2013, after posting weak fourth quarter results across its key business units.
Shares of the consumer products supplier sank as much as 23 percent as earnings from continuing operations missed estimates and 2019 Ebitda guidance disappointed investors.
The bleak report pulled down shares of household peers as well, with Energizer Holdings Inc. dropping as much as 5.9 percent and Inter Parfums Inc. falling as much as 3.5 percent.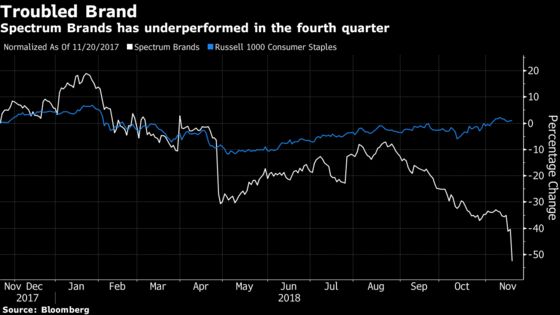 Spectrum Brands chairman and chief executive officer David Maura said net proceeds from operational and strategic changes, including plans to sell its battery and lighting business and its global auto care unit to Energizer Holdings will help the company offload some of its debt, ''increase investment in organic growth initiatives and repurchase shares.''
The Wisconsin-based company also said the agreement to sell its auto business to Energizer contains a "go-shop" provision; the "go shop" period lasts from Nov. 15 to Dec. 20, with potential for a five-day extension.
Oppenheimer analysts led by Ian Zaffino downgraded their rating on the stock to perform from outperform, citing the company's operational challenges, its decision to end the sale process of appliances and uncertain outlook.
''Overall, it was a troubled quarter,'' said Zaffino in a note. ''The company continues to face operational challenges and one-time issues across key business units. Further, Spectrum's new structure leaves it with lower margins and greater risk to online sales.''