Pimco Sees 'Hidden' Value in Mortgages That Lured Record to ETF
(Bloomberg) -- As the hunt for yield intensifies, investors including Pacific Investment Management Co. see an attractive opportunity in mortgage bonds.
The appetite for the securities has been so strong lately that an exchange-traded fund tracking the industry had its biggest inflow ever. State Street Corp.'s SPDR Portfolio Mortgage Backed Bond ETF, ticker SPMB, had an intake of about $399 million on Wednesday -- topping its previous record of $360 million that was set just the day before, according to data compiled by Bloomberg. The $1.6 billion fund is also on track for the strongest week of inflows in its history.
Renewed concerns about the already fragile global economy are supporting a shift lower in bond yields. While the U.S.-China trade conflict was the main cause of worries in recent months, the deadly coronavirus is now taking center stage. With Treasury rates hovering nearmulti-year lows, higher-yielding mortgage bonds are an attractive alternative, according to Pimco's Erin Browne.
"Agency mortgages are a good substitute for Treasuries -- higher yield and better valuations," said Browne, a globalmulti-asset portfolio manager at the firm. "We think those are hidden pockets of opportunity that the market isn't focused on and something we really like right now."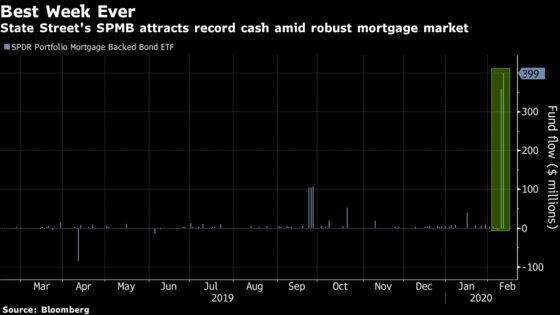 Non-agency mortgages also offer an appealing alternative to corporate credit, given that they generally come with less leverage and better balance sheets, Browne said.
Mortgage-backed ETFs have attracted $4.7 billion so far this year, while inflows into mortgage-related mutual funds have totaled $4.2 billion in the span, according to Refinitiv Lipper.
Investors are piling into the industry even as a wave of refinancings looms in the months ahead. That could crimp performance for the mortgage-backed securities market.
Following are SPMB's biggest holdings as of Feb. 11:
| Name | Ticker | Position | Value (USD) | Change in Position | % of Total Asset Value |
| --- | --- | --- | --- | --- | --- |
| State Street Institutional Liq | SSIXX US Equity | 88.7 million | 88.8 million | -5.29 million | 9.7 |
| FNCL 3 3/20 | %326B8JB Mtge | 18,570 | 19 million | 0 | 2.1 |
| G2SF 3 2/20 | %1IV66AM Mtge | 15,550 | 16 million | 0 | 1.7 |
| FN MA3834 | FNMA3834 Mtge | 12,875 | 13 million | 0 | 1.4 |
| FN FM1271 | FNFM1271 Mtge | 10,609 | 10.1 million | 0 | 1.1 |
| FN FM1571 | FNFM1571 Mtge | 11,577 | 9.55 million | 0 | 1 |
| G2 MA6040 | G2MA6040 Mtge | 8,389 | 8.31 million | -182 | 0.9 |
| G2 MA6154 | G2MA6154 Mtge | 7,475 | 7.64 million | 0 | 0.8 |
| G2 MA5078 | G2MA5078 Mtge | 10,525 | 6.83 million | 0 | 0.7 |
| FNCL 3.5 3/20 | %326R8JB Mtge | 6,575 | 6.79 million | 0 | 0.7 |