Southeast Asia Wins Hearts of Private Equity Investors Again
(Bloomberg) -- Southeast Asia is the most-favored destination for private-equity investors for a second year in a row, according to annual data from the Emerging Market Private Equity Association.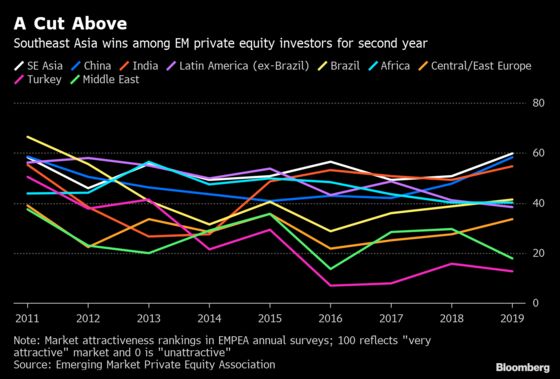 The 10-economy bloc edged out nine other regions and countries in the global industry body's annual ranking of market attractiveness over the next year, according to data provided to Bloomberg Wednesday. Southeast Asia scored a 59.72 on a scale of 0 to 100, with 100 denoting "very attractive" and 0 marking an "unattractive" market to invest. That's also the best score for the region in the 11 years that it's been included in the survey.
The fast-growing technology sector and relatively low political risk are sustaining private equity and venture capital investor interest in Southeast Asia, said Steven Okun, EMPEA's Singapore-based ASEAN representative.
The region edged out China and India in the ranking, while Latin America showed the biggest slide to No. 6 from No. 4 in 2018. Russia and the post-Soviet states earned the lowest score for 2019, at 5.36.