South African Stocks Drop as Gold Frenzy Pauses, Richemont Slips
South Africa's main stock index erases gains of as 0.3%, to decline 0.6% by 9:54 a.m. in Johannesburg, with gold shares retreating the most in more than a month as the rally in bullion cools. Luxury retailer and market heavyweight Richemont weighs on the benchmark index after earnings from French peer LVMH disappoint analysts.
Gold index slides as much as 5.5%, most June 15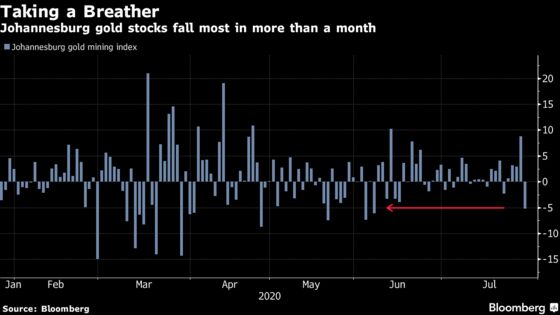 Globally, investors are betting setbacks in the fight against the coronavirus will lead Fed Chairman Jerome Powell to signal Wednesday that rates will stay near zero for longer. Health officials are tackling rising cases in countries ranging from China to Spain and Germany, underscoring the difficulty of curbing the pandemic.
South Africa secured a $4.3 billion in emergency loan from the International Monetary Fund, the largest emergency disbursement for any country yet. The funds will go toward supporting government efforts addressing the challenging health situation and severe economic impact of the Covid-19 shock, the Washington-based lender said Monday.
Luxury retailer Richemont, falls for the third day, down 1.3%, providing biggest drag on the index, after French peer LVMH missed analysts' profit esimates

NOTE: LVMH Profit Hit by Store Closures, Travel Restrictions

The index of bank stocks falls 1.1% as rand weakens

FirstRand Ltd. -1%, Standard Bank Ltd. -0.7%, Capitec Bank Holdings Ltd. -0.3%, Absa Group Ltd. -1.3%, Investec Plc -1.4%

Cooling bullion prices drag gold producers lower, pulling the gauge of mining firms down 0.4%.

Sub-Index for gold producers halts a four-day rally, as bullion frenzy pauses, with investors looking to lock in profits

Gold Fields Ltd. -3.5%, AngloGold Ashanti Ltd. -2.2%, Harmony Gold Mining Co. -4.2%, DRDGold Ltd. -1.6%

Iron-ore producers gain after a recovery in the steelmaking raw material

Anglo American Plc +0.6%, BHP Group Plc +0.3%, African Rainbow Minerals Ltd. +0.2%
NOTE: Iron Ore Rebounds as China Economy, Rio Earnings Eyed

Kumba Iron Ore Ltd. +0.6% as company say the rally in iron ore prices countered the impact from the coronavirus, which disrupted mining production and curbed earnings.

Index heavyweight Naspers Ltd., with a 19% weighting, rises for the second day, up 1% to provide biggest boost to the market, as partly owned Tencent Holdings Ltd. advances in Hong Kong.
Naspers subsidiary, Prosus NV, which holds the company's 31% stake in Tencent, gains 0.7% as company sells two benchmark euro bonds, following a $1b U.S. deal on Monday.

NOTE: Tencent Investor Prosus Offers Debut Euro Bonds Amid M&A Hunt

Foreigners were net sellers of South African stocks for a fourth day Monday, disposing of 1.29b rand worth of shares, according to index operator JSE Ltd.