Sorry European Banks, Recovery May Have to Wait: Taking Stock
(Bloomberg) -- The glass is definitely half-empty for investors this week. S&P 500 futures tumbled yet again overnight, which means Wall Street is set to extend Tuesday's meltdown, and Europe will probably not escape the renewed sell-off. Euro Stoxx 50 futures are trading down 1.2% ahead of the European open.
With all the pessimism around and a number of macro indicators in Europe pointing to an economic slowdown, it's worth having another look at one of the region's biggest, and lately, largely unloved sectors: banks. European lenders can't seem to wake up from a prolonged period of latency. Just as the Stoxx 600 Banks Index attempted to cross this year's dominating downtrend on Monday, the shares dropped back immediately.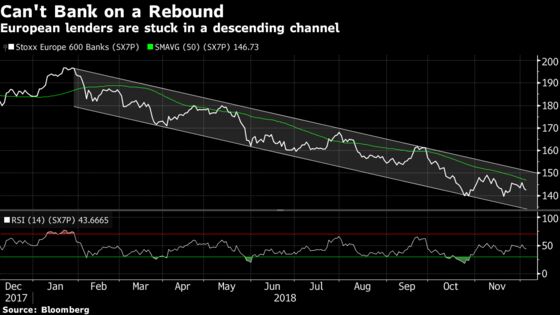 The sector remains among the weakest in Europe with a 23 percent drop this year -- the biggest annual slump since 2011 -- outpaced only by autos. Seized by a potpourri of pressure from Italian politics and spreads to Brexit and company-specific issues like money-laundering, there's one thing that lenders, especially euro-area banks, are desperately waiting for: rate hikes. Unfortunately, they may need even more patience, Fitch said Wednesday.
All eyes and hopes are on the European Central Bank to at least start some small rate hikes next year, a prospect that rating agency Fitch has now given-up on. "Downgrades to the euro-zone growth outlook and stubbornly low core inflation now look likely to persuade the ECB to hold off from raising interest rates until 2020," Fitch said. That also doesn't read well for the euro, which has helped set the pace for banks this year.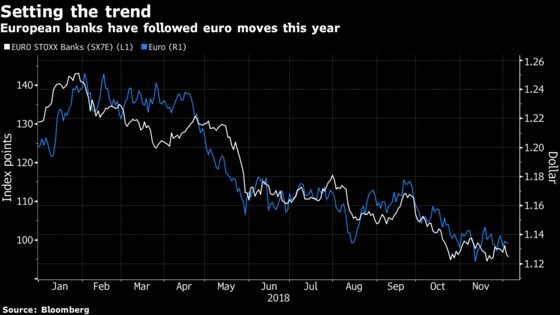 With the ratings agency scrapping its call for rate hikes next year, things look even tougher for the remaining banking bulls. And there aren't many left. Investors' exposure to financials was trimmed further in October and is now underweight, according to Barclays citing EPFR data. "Almost 40% of funds are now overweight financials, which is a 16% reduction from the January highs," the bank said. That's also the median exposure over an 11-year period. There's little doubt the picture didn't grow rosier in November.
Fitch echoes some Commerzbank analysts who last week moved their estimate for the first ECB hike into the first quarter of 2020 as they expect inflation to stay low. While this might not shock bank shareholders, with much rate-hike skepticism was already priced in, it sure dampens the chance for any reasonable bottom-line improvement next year.
The unexpected slowdown in Italian GDP over the third quarter was another blow to a macro-sensitive sector. Italian banks already have difficulties to refinance themselves and can't afford more steps in the wrong direction.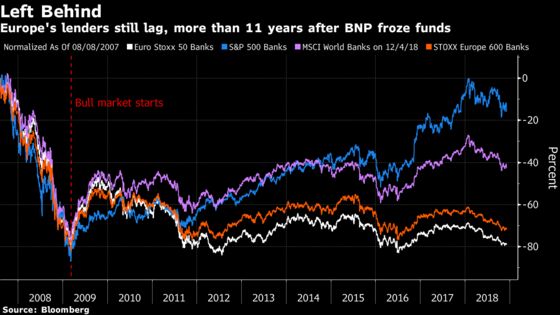 And yet, for many, it's more of the same: More than 11 years since BNP Paribas froze funds that were exposed to U.S. subprime mortgages, which some consider as the starting point of the global financial crisis, banks have yet to recover.
Watch the sectors most often buffeted by trade tensions, including autos, miners, steelmakers and the semiconductor subsector in tech, after the arrest of the CFO of Chinese telecoms firm Huawei in Canada on a U.S. extradition request. This could be seen as a threat to the easing of tensions between the U.S. and China. Industrial and chemicals stocks supplying some of these markets could also be affected.
Watch oil and oil companies, as oil ministers from the OPEC nations get together in Vienna at a time of heightened volatility in the industry and after OPEC+, including Russia, recommended a production cut, albeit without providing any details. Donald Trump reiterated his call for the oil cartel to keep crude flowing and put a lid on the oil price. He may not be pleased by what OPEC decides to do.
Watch the pound and U.K. equities The situation for Prime Minister Theresa May, pilloried from all sides over her Brexit deal, has never been more bleak. But for markets, the mood appears to be lifting as the developments in recent days indicate the chance of a no-deal Brexit are fading, while the probability of a second referendum on the U.K.'s European Union membership is increasing.
Watch Italian stocks following local press reports indicating there remains no agreement on cuts to two key reforms the government wants to make but also that the country could trim its budget-deficit targets in 2020 and 2021. Watch Italian government bonds and any subsequent reaction at Italian banks including UBI Banca, UniCredit, Intesa Sanpaolo and Mediobanca.
"Markets are already incredibly nervous over slowing economic growth thanks to the inverted US yield curve," Jasper Lawler, head of research at London Capital Group, writes in a note. "Relations between the U.S. and China were supposed to be on the mend after a productive G20. However, the arrest (of Huawei's CFO) has the potential to shatter very fragile U.S.–Sino relations which will weigh further on global trade and growth concerns. It looks as though, despite recent heavy sell-offs, the bottom is not in sight and the markets have further to fall. The big swings of late are representative of a very jittery market."
NOTES FROM THE SELL SIDE:
Morgan Stanley says Europe and China provide downside risks to 2019 earnings across the autos & shared-mobility sector, adding that it still sees that tire-cycle downside is more limited than for other parts of the automotive universe. Consensus expectations for rising margins are likely to be too optimistic, while economic and credit data could keep valuations under pressure. Autoliv and Veoneer are cut to equal-weight. Broker is overweight Pirelli, Michelin, Continental, Renault and Europcar. Peugeot and Volvo are rated underweight.
Commerzbank is looking for a new head at the key unit that caters to business clients as the company struggles with intense competition and low interest rates.
Telecom Italia's board on Thursday may schedule a special shareholders meeting in January to appoint auditors for the phone company, a move that would allow Vivendi to make an attempt to win back board control, according to people familiar with the matter.
Casino Now Targets at Least EU2b of Disposals: BFM Business
Nyrstar Says Trafigura's $650m Trade Finance Facility Signed
Georg Fischer Unit Sells Two German Iron Casting Plants
Danish Minister Wants New Laws to Blacklist Atea: Berlingske
Verizon Seen as Frontrunner for TomTom's Telematics: Telegraaf
Barclays Japan at 'Right Size' After Painful Cost Cuts: Chairman
Lukoil Hopeful No Big Need for Oil Output Cuts as Prices Fair
Wow Air and Indigo Meet in Reykjavik to Discuss Investment
VW Brand Moves Profitability Target Forward, Handelsblatt Says
SGL Sees Higher Mid-Term Targets for Group Sales, Ebit
L'Oréal Creates Corporate Venture Capital Fund for Startups
Le Maire Says France Will Impose Digital Tax if Europe Doesn't
Le Maire Confirms There Will Be No New Fuel Taxes in 2019
AstraZeneca's Soriot Says Rumored Departure Is Fake News: Echos
PostNL: Record Numbers of Parcels During Busy Shopping Period
DS Smith First Half Adjusted Operating Profit GBP304 Mln
TECHNICAL OUTLOOK for Stoxx 600 index:
Resistance at 365.1 (38.2% Fibo); 367.8 (50-DMA)
Support at 353.2 (50% Fibo); 341.2 (61%.8 Fibo)
RSI: 41.8
TECHNICAL OUTLOOK for Euro Stoxx 50 index:
Resistance at 3,223 (50-DMA); 3,262 (March low)
Support at 3,072 (61.8% Fibo); 2,921 (76.4% Fibo)
RSI: 43.4
MAIN RESEARCH AND RATING CHANGES:
UPGRADES:
Clas Ohlson upgraded to buy at SEB Equities; PT 87.50 Kronor
Fabege upgraded to buy at Handelsbanken; PT 140 Kronor
Faroe Petroleum raised to equal-weight at Barclays
Genus upgraded to buy at Kepler Cheuvreux; PT 26.30 Pounds
Grenke upgraded to buy at HSBC; Price Target 96 Euros
Hufvudstaden upgraded to buy at Handelsbanken; PT 165 Kronor
Takeaway raised to sector perform at RBC; Price Target 50 Euros
BioMerieux downgraded to hold at Kepler Cheuvreux; PT 66 Euros
Capgemini downgraded to equal-weight at Barclays; PT 106 Euros
DiaSorin downgraded to hold at Kepler Cheuvreux; PT 76 Euros
Hexagon downgraded to underweight at Barclays; PT 430 Kronor
Klovern downgraded to reduce at Handelsbanken; PT 10.80 Kronor
Petra Diamonds downgraded to hold at Panmure Gordon; PT 45 Pence
Sage downgraded to add at AlphaValue
Zurich Ins. downgraded to neutral at JPMorgan; PT 359 Francs
Aeroports de Paris reinstated outperform at Macquarie
Neoen rated new buy at SocGen; PT 21.70 Euros
MSCI Asia Pacific down 1.1%, Nikkei 225 down 1.9%
S&P 500 down 3.2%, Dow down 3.1%, Nasdaq down 3.8%
Euro down 0.14% at $1.1328
Dollar Index up 0.02% at 97.09
Yen up 0.23% at 112.93
Brent down 1% at $60.9/bbl, WTI down 1.2% to $52.3/bbl
LME 3m Copper down 0.7% at $6130/MT
Gold spot down 0.1% at $1235.5/oz
German 10Yr yield down 3bps at 0.25%
US 10Yr yield down 2bps at 2.89%
MAIN MACRO DATA (all times CET):
9:30am: (GE) Nov. Markit Germany Construction PMI, prior 49.8