Some of the Philippines' Biggest Managers Return to Buying Bank Stocks
(Bloomberg) -- Some of the largest money managers in the Philippines are putting money in some of this year's biggest losers: banks.
Traders at Sun Life of Canada and Rizal Commercial Banking Corp. are boosting their holdings in the sector, betting 2019 will be a payback period. Stiff competition and slower-than-expected loan growth have sent the Philippine Stock Exchange Financials Sector Index down 20 percent in 2018, more than the nation's benchmark gauge.
"It's a good time to start looking at banks," said Michael Enriquez, who helps manage $6 billion as chief investment officer at Sun Life's Philippine unit. He turned overweight on the sector last month after being underweight for most of the year. "Many banks are already cheap, and with net-interest margins set to expand as they deal with the higher costs of short-term funding and aggressively raise lending rates, the sector offers a good proposition."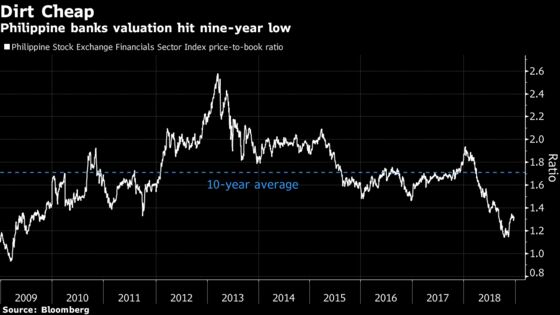 Third-quarter results were certainly a step in the right direction: net-interest margins improved 7 basis points to 3.34 percent, according to Charles William Ang, a bank analyst at COL Financial Group Inc., who sees further expansion as loans are repriced while lending expands at a healthier pace.
It's the only industry that managed to grow margins, said Rachelle Cruz, an analyst at AP Securities Inc. She added that higher interest rates and a resumption in reduction in the reserve requirement would also help.
Other market watchers are not as sanguine. Noel Reyes, the chief investment officer at Security Bank Corp., is holding back after picking up some shares when the index of lenders hit a low in October. He raised his allocation to neutral from underweight this quarter.
"As long as margins and loan books grow, banks are interesting, but I'd wait for that to happen before adding some more and turning overweight," he said.
Still, valuations are attractive. The lenders' gauge trades at 1.3 times book value, below its 10-year average of about 1.7, data compiled by Bloomberg show. In October, it fell to 1.1, its lowest multiple since 2009.
"It's a lenders' market now, so there is really a good opportunity to grow net-interest margins," said Steven Ko, a fund manager at Rizal. He is now overweight the sector after keeping an underweight rating most of the year. "Banks are now in a better position to adjust their lending rates."
Ko, Security Bank's Reyes and Enriquez at Sun Life also favor property and retail shares.