Some Key Wall Street Bears Are Changing Their Tune: Taking Stock
(Bloomberg) -- The bulls are breathing a bit more easily after the recent bounce in stocks (S&P 500 up almost 10% since Christmas and the futures are up another handful of points this morning), while even some of Wall Street's biggest bears have started to change their tune.
And who can blame them given Powell's pacification strategy, China's efforts to stimulate its markets, encouraging developments in regards to a potential trade deal (talks ended after being extended an extra day and a statement should be forthcoming), Apple continuing to recoup losses from last week's shock revenue cut, $11 billion market cap iPhone supplier Skyworks ripping ~5% despite a disappointing preannouncement, and Samsung's strength following its recent colossal headline miss (both reminiscent of other reactions to bad news in tech lately, as noted in Tuesday's Taking Stock).
Before getting to folks who get paid to make investments or analyze markets, it's worth mentioning the comments from Apple CEO Tim Cook from his interview with Jim Cramer.
Recall that Apple cited weaker China demand for its first revenue outlook cut in close to two decades. But on last night's show, Cook predicted that the trade-related economic weakness in China would be temporary. He said that he "heard some very encouraging words" from people with knowledge of the trade talks very recently and is now "very optimistic" that a deal will happen. Now I don't know about you, but I have a feeling that those comments just might carry just a bit more weight with the financial community than some of the rhetoric from the Trump administration we hear on a close to daily basis.
And now, a word from some of the bigger pessimists on Wall Street, some of whom have played the Chicken Little card for months now but all of whom appear to be striking a different tone (albeit some very slightly) these days:
DoubleLine Capital CEO/CIO Jeff Gundlach, in last night's "Just Markets" webcast: He didn't make any overly bearish arguments for U.S. stock market weakness, like he did last year. In fact, he hardly made reference to the stock market at all when compared to other asset classes or topics, aside from forecasting emerging market stocks to beat the S&P 500 index if the dollar weakens. One thing we did do was call Powell's comments from Friday a capitulation: "He went from pragmatic Powell to Powell put and the markets have been throwing a party since then."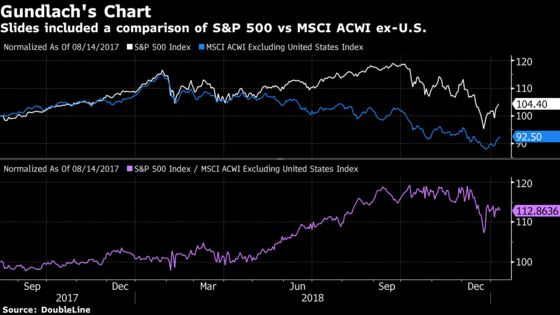 Guggenheim CIO Scott Minerd on CNBC Dec. 26, just days after warning about possible systemic risk and fanning recession fears for chunks of 2018: He sees 50/50 odds that the Fed cuts rates in 2019 and says "we're close enough to a bottom [in the equity market] that investors should be stepping in." Minerd adds that he "would be looking to selectively pick up some, what I think, some cheap assets that are out there because I think inevitably the Fed's going to have to react to this."
Morgan Stanley chief U.S. equity strategist Michael Wilson, who had a prescient bear market call on the broader markets prior to the big selloff, in a Jan. 7 note: He said the market has now discounted the bank's earnings recession call. "We are definitely more constructive than we have been in over a year based on valuation, sentiment, and positioning," though adds that it's not time yet for the "all clear signal."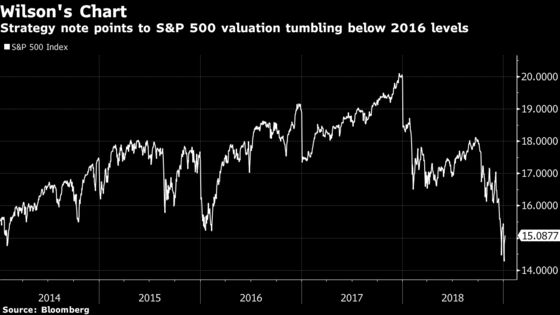 Veteran investing pundit Dennis Gartman, who had several timely short calls prior to and during the October-December meltdown, in Tuesday's edition of his daily newsletter: "We remained bearish right into Friday's opening and even after the release of the Employment Situation Report which had served to make us more bearish than we had been. Then, however, Mr. Powell spoke and it seemed to us the game changed." He further said "we are still of the mind that stocks are headed a good deal higher."
Apple suppliers after Skyworks's positive reactions, despite preannouncing results below consensus, and Tim Cook's China comments, as mentioned above
Homebuilders after Lennar deferred forecasting 2019 guidance due to "continued softness and uncertainty at this seasonally slower time of year"; note KB Home, with a sliver of the market value cap that LEN has, reports after the close
Industrial distributors, like Fastenal and Grainger, after a weaker-than-expected quarterly outlook from MSC Industrial
Railcar names, like Trinity Industries, FreightCar America, and GATX, with Greenbrier reporting a beat
Memory-related stocks after smallcap SMART Global plummets 13% on weak forecasts, citing increased seasonality in its Brazil business
Pot stocks after a positive sell-side initiation, with more on this in the next section
Home product retailers ahead of Bed Bath & Beyond earnings tonight, with options implying a one-day move of just under 20%
There's more movement in the bank sector ahead of next week's earnings, with Citi saying it's a tactical time to buy (upgrading Morgan Stanley and Citizens Financail to buy, re-initiating Fifth Third with a buy, downgrading Bank of New York Mellon to neutral) and UBS lifting its rating on Bank of America to a buy as "responsible growth, positive operating leverage not being rewarded"
Piper published a positive initiation on the pot stocks after Tuesday's close, estimating a long-term global cannabis market potential of up to $500 billion and a near-term market of anywhere from $15 billion to $50 billion. They see the larger players as the likely winners in the long run and thus rate both Tilray and Canopy Growth overweight.
Booking Holdings got two downgrades this morning: 1) Morgan Stanley downgrades Booking as well as Expedia to equal-weight on "slowing room night growth, higher spend on new initiatives and execution uncertainty," and 2) Jefferies cuts Booking to hold with the analysts turning incrementally more cautious on the travel space on macro concerns.
Tick-by-Tick Guide to Today's Actionable Events
7:30am -- STZ earnings
8:00am -- APA, DVN, ECA, MRO at Goldman energy conference
8:20am -- Fed's Bostic speaks on economic outlook
8:30am -- SCHN, AYI (roughly) earnings
8:30am -- MSM earnings call
8:45am -- HP, NBR, PTEN at Goldman energy conference
9:00am -- Fed's Evans speaks on economy and monetary policy
10:00am -- Bank of Canada rate decision
10:00am -- PLUG business update call
10:30am -- DoE oil inventories
10:30am -- STZ earnings call
10:30am -- PM CEO Andre Calantzopoulos on Bloomberg TV
11:00am -- LEN earnings call
11:00am -- AMD CEO Lisa Su gives keynote at CES
11:00am -- ABBV at JPMorgan healthcare conference
11:00am -- HCLP, SND, CVIA at Goldman energy conference
11:30am -- Fed's Rosengren speaks on economic outlook
12:00pm -- EDIT at JPMorgan healthcare conference
12:05pm -- Larry Summers on Bloomberg TV
12:30pm -- AT&T at Citi Global TMT West conference
1:00pm -- VIAB CEO Bob Bakish at CES
1:00pm -- CHK at Goldman energy conference
1:15pm -- OLED at Citi Global TMT West conference
1:30pm -- Fed's Rosengren on Bloomberg TV
1:40pm -- BB CEO John Chen on Bloomberg TV
2:00pm -- FOMC Minutes
3:00pm -- PBYI at JPMorgan healthcare conference
4:00pm -- PSMT earnings
4:05pm -- WDFC, VOXX earnings
4:10pm -- KBH earnings
4:15pm -- BBBY earnings
4:15pm -- COST monthly sales
4:30pm -- TWTR CEO Jack Dorsey and NBA commissioner Adam Silver at CES
5:00pm -- BBBY, KBH earnings call
5:00pm -- ROKU at Citi Global TMT West conference
5:45pm -- VIAB at Citi Global TMT West conference
6:20pm -- FB head of content strategy & planning Matthew Henick at CES
8:30pm -- China CPI & PPI