SocGen's Biggest Loss Since Kerviel Adds Pressure on CEO Oudea
(Bloomberg) -- Societe Generale SA suffered its worst quarter since rogue trader Jerome Kerviel's record loss more than 12 years ago, after it wrote down the value of its trading business and took a large tax charge.
The French lender posted almost 1.33 billion euros ($1.56 billion) in one-off costs following a review of the global markets and investor services business, including a 684 million-euro writedown. That capped a tough period for the bank, which saw equities-trading revenue decline 80% after structured products were hit for a second straight quarter.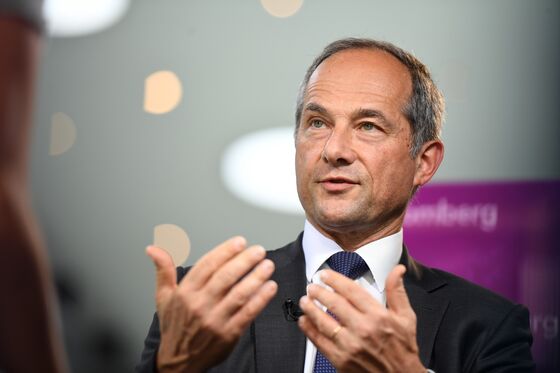 The resulting 1.26 billion-euro net loss extends a losing streak for embattled Chief Executive Officer Frederic Oudea, who is under increasing pressure to turn the lender around after a 60% slump in the shares this year. The 57-year-old is reducing risks and accelerating a transition toward simpler products at the investment bank, while trying to defend SocGen's leading position in equity structured products.
"We have a worldwide leading position in investment solutions with equity structured products, and we have decided to protect this franchise," Deputy CEO Severin Cabannes said in an interview with Bloomberg TV. "But we have decided to adjust our product mix, to have products that are less sensitive to this market dislocation."
SocGen fell as much as 4.4% in early Paris trading and declined 2.7% as of 1:07 p.m. The stock has lost about 59% this year, making it one of Europe's worst-performing banks.
Equities trading took a 200 million-euro hit in the second quarter related to companies canceling dividends because of the coronavirus, offsetting a 38% rise in fixed income trading. The bank said it also expects to cut as much as 450 million euros of costs at the unit by 2022. Cabannes declined to say whether the bank plans any job cuts this year.
The bank will stop producing the structured products that went awry in the first half, and is working to develop alternatives that will be less sensitive to market dislocations, Cabannes said at a press conference.
The French firm's biggest rival, BNP Paribas SA, rebounded from a first-quarter profit warning and stock trading hit with a blowout performance in fixed-income. Revenue from trading fixed-income securities, currencies and commodities jumped 154% in the second quarter from a year earlier, offsetting a more than 53% decline in equities trading. It said there was only a "residual impact" from the dividend cancellations.
SocGen set aside about 1.28 billion euros in the second quarter to cover the cost of loans going sour, higher than the 820 million euros in the first three months. The bank said it's on track to reach its cost target of 16.5 billion euros for 2020.
The results signal that SocGen only partially benefited from a broad-based market rally that helped U.S. peers double revenue in fixed income trading. Overall, Wall Street banks' trading and dealmaking businesses recorded their best quarter, with $45 billion in revenue. Still, they and European counterparts including Deutsche Bank AG have warned that conditions will probably be less advantageous in the second half of the year.
More details from SocGen's second-quarter results:
Loss of EU1.26b

vs

estimate of EU183.1m profit
Revenue EU5.29b

vs

estimate of EU5.52b
CET ratio 12.5%

vs

estimate of 12.2%
Fixed income revenue EU700m

vs

estimate EU556m
Equities revenue 142m

vs

estimate 313m
Provisions EU1.28b

vs

EU1.1b estimate
EU650m deferred tax charge impacts Global Markets business
Oudea had flagged in June that the bank may have missed the trading rally that boosted rivals. Coronavirus-related market swings wiped out stock trading revenue in the first quarter, prompting the bank's board to pressure Oudea to make changes at the unit, people with knowledge of the matter said at the time.
SocGen late last year initiated a formal search for a successor to Oudea, Bloomberg has reported. The plan then was to have a candidate ready when the CEO's term ends in 2023, though the replacement could happen before that, people familiar with the matter said at the time.
Oudea has been in charge for more than a decade, for a while in the dual role of CEO and chairman of the board of directors. In 2015, SocGen separated the two roles and named former European Central Bank board member Lorenzo Bini Smaghi to oversee the board.