SocGen Cuts Stock Allocation, Says S&P 500 May Drop Below 2,500
(Bloomberg) -- Higher credit yields may finally be affecting the U.S. stock market and it's time to reduce the allocation of assets to equities versus bonds, according to Societe Generale SA.
A boost from tax cuts kept stocks resilient as yields rose initially, but now that the U.S. 10-year Treasury yield has been above 3 percent since September it's starting to affect equities, SocGen strategists led by Alain Bokobza wrote in a note Wednesday.
"From an asset-allocation perspective, it is time to lower allocation to equity," the strategists wrote. Higher bond yields are "now leading to higher cost of equity and equity risk premium."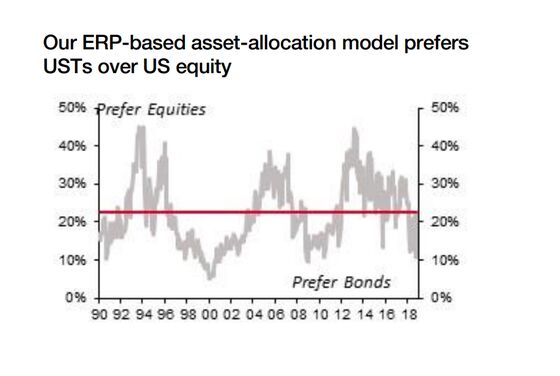 The equity risk premium is now at 3 percent, compared with 2.7 percent in August, while bond yields have risen 10 basis points over the same period, the report said. The 10-year yield was around 3.15 percent on Wednesday.
With the equity risk premium at current levels, should the 10-year yield hit 3.25 percent -- just about 10 basis points away -- the S&P 500 could drop to around 2,482, the strategists calculated. That's a tumble of about 9 percent, and 15 percent off the gauge's record high from September.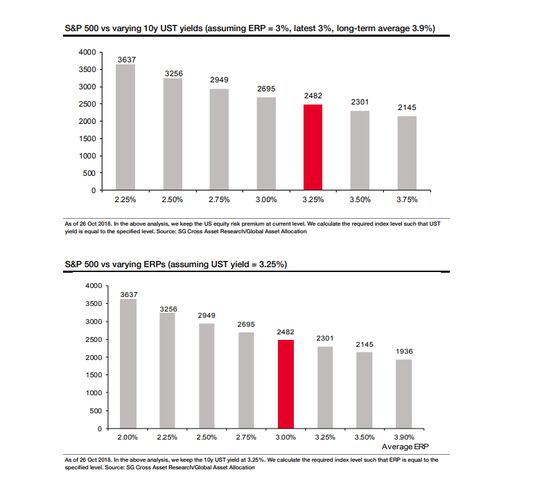 With relative equity valuations rich, any jump in volatility would require a further cut in allocation to stocks, the strategists said. Given the current equity risk premium, if the Cboe Volatility Index hangs around 20, investors should allocate about 15 percent of assets to stocks, and further reduce from there as the VIX goes higher, they said.