Soaring Market Has Done Nothing to Cut the Rate of Single Stock Blowups
(Bloomberg) -- You might think the best start for U.S. equities in three decades would reduce incidence of single-session wipeouts for individual stocks. Think again.
While the S&P 500 was busy soaring 17 percent to a record, a total of 33 of its companies suffered single-day losses of greater than 10 percent, data compiled by Bloomberg showed. That's virtually the same as last year -- one of the worst stretches of turbulence since the financial crisis -- and the most since 2016, when American shares were in free fall.
The data explains some of shell-shocked psychology that has prevented traders from taking the plunge into an otherwise buoyant market. Most of the blame falls on disappointing earnings, as was the case of 3M Co. and Xilinx Inc., or political drama, where proposals such as Medicare for All sent companies like HCA Healthcare Inc. tumbling.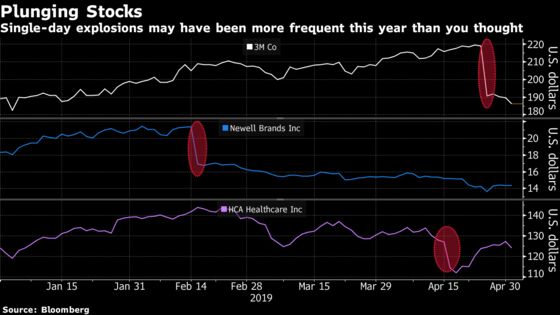 "There are a lot of investors that got shaken out because of December and have not come back," Arthur Hogan, chief market strategist at National Securities Corp., said by phone. "When you see some of these household names that get taken to the woodshed, it certainly doesn't help the situation."
Big counter-trend moves are even coming on up days, a sign investors are paying more attention to individual stories, instead of chasing the market blindly. It was poised to happen again Thursday, with Fluor Corp. tumbling 24 percent while the S&P 500 edged higher.
While it creates a little chaos, it's also reason for traders to shift money into other stocks. As a result, shares are moving out of steps with each other at one of the fastest rates in a decade and the broad market keeps marching higher.
Below is a list of some major plunge outliers this year:
3M down 13 percent on April 25, the most since Black Monday in 1987 after revealing that its business is far weaker than investors realized.
The same day, Xilinx sank 17 percent, the worst earnings-reaction in more than a decade, after the chipmaker gave a disappointing gross margin outlook
HCA slumped 10 percent on April 16, leading a sell-off in health-care stocks, as fears snowballed over a proposal that's backed some contenders for the Democratic presidential nomination to expand government-administered coverage to most of the population
Biogen Inc. tumbled 29 percent on March 21 for the worst day since the global financial crisis after the biotechnology giant said that its experimental Alzheimer's drug was unlikely to be effective and that it was halting its research
Newell Brands Inc. fell 21 percent on Feb. 15, after the consumer-goods maker warned about another year of revenue declines