So-So Earnings Drive Outsize Stock Gains After December Beatdown
(Bloomberg) -- Consider it the reward for living through the worst December for stocks in 86 years. A relatively unspectacular earnings season has been an occasion for celebration among investors.
With quarterly figures published by two-thirds of the S&P 500, companies that beat on top- and bottom-line results have outperformed the market by 3.5 percent, compared with a three-year average of 1.8 percent. Ones that missed on both sales and earnings have underperformed the S&P by only 1 percent, compared with a three-year average of 3.6 percent.
A couple things may be at work. One, December's 9.2 percent drubbing in the S&P 500 hammered valuations to a point where further pain was harder to enact. Two, a relatively frantic pace of year-end estimate cuts left investors more inclined to forgive when actual numbers were released.
"The bar came down low enough and investors said, 'maybe the backdrop isn't as negative as we'd expected,' " said Patrick Palfrey, equity strategist at Credit Suisse. "The earnings season showed that we are not going into a recession right now. The results were nowhere near as spectacular as in the past quarters. But they were good enough to alleviate some of investors' concerns."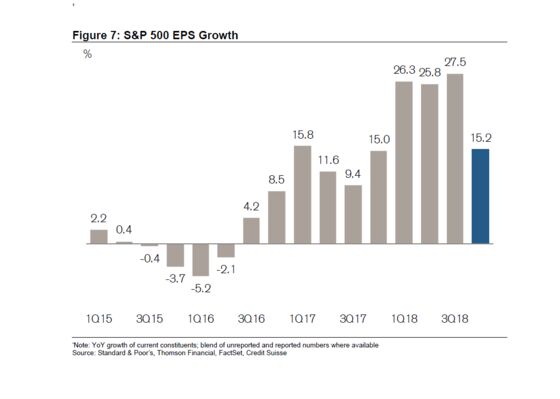 Even with the lowered estimates, S&P 500 profits have exceeded estimates by 3.8 percent on average in the fourth quarter, data compiled by Credit Suisse showed. That sounds good but is well short of the 4.9 percent norm over the last three years.
Profit revisions haven't stopped in the new year. Analysts who had been expecting first-quarter earnings growth of 7.6 percent as recently as Aug. 31 are now forecasting a decline, the first in three years. Among companies that provided quarterly guidance, 23 lowered the earnings outlook and 19 reduced the revenue view, data compiled by Bloomberg Intelligence show.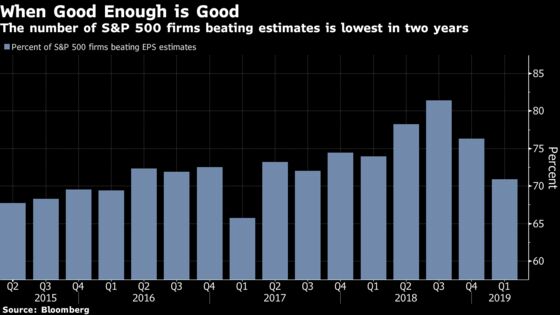 Coca-Cola Co., Nvidia Corp. and Cisco Systems Inc. are among the companies that are scheduled to report earnings this week.