Snowflake Sees $20 Billion Wipeout in Week as Lockup Expires
(Bloomberg) -- Snowflake Inc. extended a three-day slump after the expiration of a lockup that restricted company insiders from selling shares.
The stock fell as much as 7.8% to $303.54 on Tuesday before recovering much of the losses as insiders had their first opportunity to cash out on gains since the company went public in September. Snowflake has declined about 17% since closing at a record a week ago, erasing nearly $20 billion in market value.
San Mateo, California-based Snowflake more than tripled in the past three months as investors had been eager to gain exposure to the cloud computing company whose revenue growth is projected to exceed 80% next year. But after the rally added nearly $80 billion in market value at the peak, concerns increased over whether its valuation had become stretched.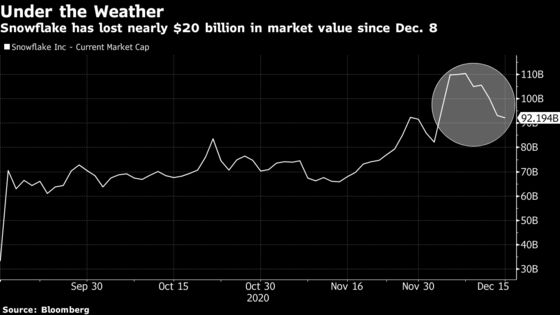 The cloud-computing company is trading at 83 times next year's revenue estimates, compared with an average of about five times for companies in the Nasdaq 100 Stock Index.
Snowflake shares have traded above the average analyst price target of $295.86 since last month. The company has nine buy ratings, 12 holds and one sell, according to Bloomberg data.