SNC Reports Unexpected Loss, Accelerates Cost Cuts to Hit Target
(Bloomberg) -- Trouble isn't over yet for embattled Canadian engineering firm SNC-Lavalin Group Inc., which reported an unexpected loss in the first quarter and intensified a cost-cutting program to meet annual targets.
The Montreal-based company at the heart of Canada's biggest political scandal in years reported an adjusted loss from engineering and construction of 8 cents a share, while analyst expected a 30-cents a share profit. It maintained its outlook for the year.
SNC says it will focus on its core geographies and move away from countries where it has only "sub-scale'' operations. It has also stopped bidding for "lump sum'' mining projects, after the dispute with Chilean copper company Codelco, which in March canceled a contract worth $260 million to build two acids plants.
Earnings before interest and taxes in the newly formed resources unit will turn positive in 2019, with margins of 4 percent to 6 percent.
SNC's sale of a 10 percent stake in a Toronto toll-road to the OMERS pension plan may not be a done deal. SNC said it's been informed that a Highway 407 ETR shareholder may exercise its right of first refusal. If that happens, SNC will owe OMERS a break fee of 2.5 percent of the purchase price.
The Cintra Global unit of Ferrovial SA of Spain holds 43.2 percent of highway 407, and subsidiaries of Canada Pension Plan Investment Board own 40 percent.
The earnings report doesn't mention SNC's now famous legal woes, which have been at the center of a controversy that has engulfed Justin Trudeau after his former attorney-general said the Canadian prime minister and some of his aides pressured her to intervene to help the construction firm avoid a trial.
The stock had its biggest drop in six weeks, falling 5 percent to C$31.69, a 10-year low. The shares are down 31 percent this year.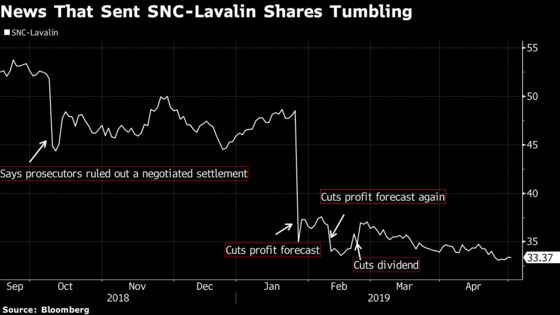 For more details on the results, click here.