As SNC Cuts Forecast, Trudeau Faces Probe Over Push for Deal
(Bloomberg) -- SNC-Lavalin Group Inc., the engineering firm at the center of a controversy that's embroiled Prime Minister Justin Trudeau, issued its second profit warning in as many weeks.
The Canadian company said Monday it failed to reach an agreement with a client in a dispute over a mining project in Latin America, slashing its profit forecast by more than 40 percent for the year and putting its shares on track for the lowest close in a almost a decade. Its 2020 bonds were also trading at the widest since they were issued in 2017.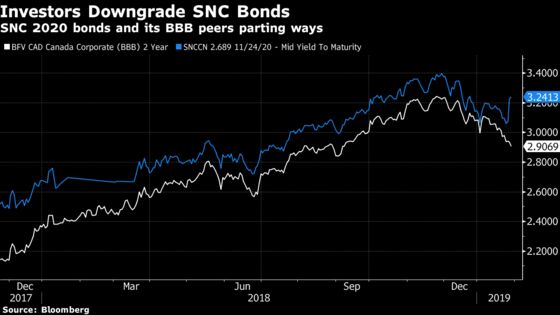 "Investor disbelief is palpable,'' Maxim Sytchev, an analyst at National Bank Financial in Toronto, said in a note to clients. "Portfolio de-risking must be a priority now,'' he added, suggesting that SNC cut its exposure to commodities through such means as asset sales.
The cut to SNC's outlook comes as Canada's ethics watchdog said it would investigate whether Trudeau or his staff pressured his former attorney general to help the company settle corruption charges out of court. The probe follows a Globe and Mail newspaper report last week that said his office urged the attorney general to strike a deal. Trudeau and current Justice Minister David Lametti denied the report.
In October, Canadian prosecutors opted against negotiating settlement with SNC over the charges stemming from its Libyan operations about a decade ago. The lack of a deal with Canada has probably cost SNC more than C$5 billion ($3.8 billion) in lost revenue and continues to damage its reputation, Chief Executive Officer Neil Bruce -- who wasn't with the company when the Libyan allegations emerged -- said in December.
The case is in preliminary hearings though no date has yet been set for the start of any trial. SNC-Lavalin has long lobbied for a negotiated settlement, arguing it has completely overhauled management since then, instituted an ethics and compliance program and the ongoing legal issues are a drain on the company and its approximately 50,000 employees.
The law allows prosecutors to stay criminal charges to protect jobs and shareholders as long as the company agrees to terms, admits wrongdoing, cooperates and pays fines.
Lametti, appointed as justice minister last month, said he could still issue a directive asking the country's prosecution service to reach a so-called remediation agreement with SNC. But he added in a television interview Sunday that the Public Prosecution Service is an independent service. "They get to operate independently -- that's part of our rule-of-law system, and the director has done so in this case."
While SNC on Monday didn't identify the troubled mining project in Latin America, analysts are pointing the finger at a copper mine run by Codelco, Chile's state-owned producer. SNC said the project will have up to a C$350 million negative drag on the company's mining and metallurgy fourth quarter earnings before interest and taxes.
SNC now sees adjusted 2018 per-share profit at C$1.20 to C$1.35, the company said Monday, short of the C$2.15 to C$2.30 range that was provided after outlining the problem on Jan. 28 when it also announced a writedown on its business with Saudi Arabia.
The shares fell 7.4 percent to C$33.99 at 2:13 p.m. in Toronto, putting them on pace for the lowest close since April 2009. They plunged 28 percent, the most in at least 27 years, on the initial warning in January.
SNC's C$300 million of 2.689 percent notes due 2020 were quoted Monday at about 160 basis points over Canadian benchmark government debt, compared with about 151 basis points Friday, according to bid prices at Bloomberg. The spread was at 123 basis points on Jan. 25 before the company announced its initial profit warning.
SNC "continues to view this as an isolated incident of a non-recurring nature,'' according to Monday's statement. SNC stressed it has no other mining and metallurgy projects "that have similar characteristics.''
To address what it called "this disappointing result,'' SNC has stopped all bidding on future mining engineering, procurement and construction projects. It's also reviewed the management structure of the mining and metallurgy unit and asked Ian Edwards, appointed chief operating officer two weeks ago, "to personally engage to immediately strengthen the local project team.''
SNC and its client in the Latin American dispute agreed to go through an accelerated arbitration process, out of which the company "expects significant recoveries in the future," SNC said.
Separately, SNC-Lavalin's lenders agreed to increase the company's maximum leverage ratio, and will consider the issue a "non-recurring item, up to a maximum of C$310 million." SNC-Lavalin reiterated, it has no plans to raise equity, as it continues to have nearly C$1.8 billion drawings available under its credit facility.