SNB Records 15 Billion-Franc Loss After Stock Market Rout
(Bloomberg) -- The Swiss National Bank ran up a loss of 15 billion francs ($15.3 billion) in 2018 as the global stock market rout and a rallying franc took a toll.
Equities -- including U.S. bluechips like Apple Inc. and Facebook Inc. -- make up 20 percent of the SNB's massive holdings of foreign currencies. U.S. and European stock benchmarks fell in 2018, while the franc gained against most of its G-10 peers, leading to a 16 billion-franc loss on that portfolio alone.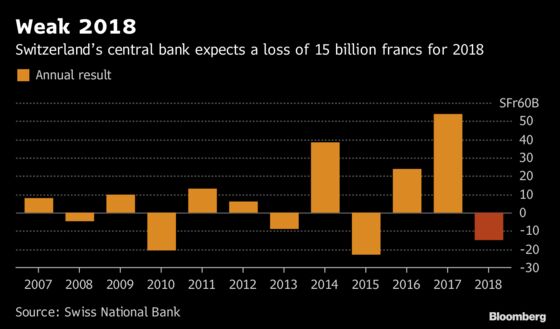 The SNB's results statement on Wednesday is preliminary and it will provide further details on March 4.
With a pile of foreign exchange that exceeds the size of Switzerland economy, the central bank, led by Thomas Jordan, is at risk of big swings when markets get turbulent. However, any profit or loss has no bearing on monetary policy, which is determined more by the strength of the franc.
The currency's rally against the euro at the end of last year damped price pressures, with data Wednesday showing core inflation at just 0.3 percent in December.
The franc's strength also left its mark on the SNB's holdings of foreign currency, which dropped 2.7 percent to 729 billion francs in December, the biggest slide since 2012, according to separate figures.
Unusually among central banks, the SNB is listed on the local stock exchange and shareholders will receive a dividend. The biggest proportion of shares is held by public institutions, including cantonal governments and cantonal banks. There are also some 2,000 private investors, whose voting rights are very limited.
The SNB also recorded a valuation loss of 300 million francs on on its gold holdings and a net result of 2 billion on its Swiss franc position, which would include income from the negative interest it charges on sight deposit accounts.