Smallest Stocks See the Most Pain as Safe Haven Trade Unwinds
(Bloomberg) -- The smaller the company, the greater the pain.
That's the mantra so far in October, according to Bespoke Investment Group. When analyzing the S&P 1500 Composite Index by market capitalization, the firm found that the average performance of groups of stocks gets markedly worse as you move further down the size spectrum. This month, the 150 largest stocks are down less than 0.5 percent while the 150 smallest have fallen more than 4 percent.
"After a period where small-caps had been handily outperforming large-caps earlier in the year, this trend has reversed in a big way recently," Bespoke analysts wrote Monday in a note.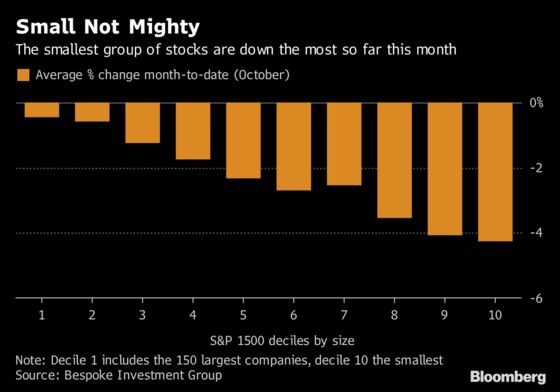 Earlier this year, small-cap stocks were seen as one of best places in the market to run to for cover as trade tensions picked up between the U.S., China and North American trading partners. With a new Nafta agreement complete and investors reassessing riskier holdings in the wake of higher rates, the small-cap trade has been unwinding.
The Russell 2000 has given up all its outperformance versus the S&P 500, and the small cap gauge has lagged the broader market six weeks straight, the longest streak in more than a year.