Worst Month for Chips in Six Years Sends Money Fleeing From Semiconductor ETF
(Bloomberg) -- Exchange-traded fund investors are fleeing chips amid the worst month for semiconductor stocks in more than six years.
The $753 million VanEck Vectors Semiconductor ETF, known by its ticker SMH, had $574 million of outflows last week, the most since June and almost 40 percent of the fund's assets. It's seeing a lot of action in the market, with investors trading more than 141 million shares this month, the heaviest volume since April.
Chip stocks are going through a extremely rough patch, in part due to the trade dispute between the U.S. and China. The Philadelphia Semiconductor Index has fallen for four straight weeks, the longest streak since May 2016, and is down almost 10 percent in October, putting it on track for its worst month since May 2012.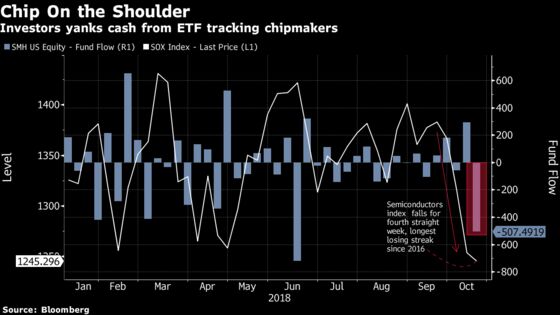 Wall Street turned bearish on chips over the past few months. Morgan Stanley downgraded the sector in August, and Goldman Sachs Group Inc. warned that supply and pricing issues hurting memory chipmakers could worsen in 2019.
Taiwan Semiconductor Manufacturing Co., which is SMH's biggest holding, tumbled last week after it forecast revenue below analysts' estimates. The company said it's facing a smartphone market with little growth, among other issues.
"Semiconductors are generally very volatile," said Olivia Engel, chief investment officer of active quantitative equities at State Street Global Advisors. "I could imagine that investors are pulling out because they're seeing the volatility rise in the last month or so."