Slowing U.S. to Push Biggest Japan Funds Toward Emerging Assets
(Bloomberg) -- Emerging markets were pummeled in 2018 but are poised to outperform developed nations this year, according to some of Japan's largest fund managers.
U.S. economic growth will probably slow in coming months, but avoid a recession, which will encourage funds to flow back into emerging-market assets, according to Sumitomo Mitsui Asset Management Co., Nomura Asset Management Co. and Daiwa Asset Management Co. A pause to Federal Reserve interest-rate increases may also lure money back into EM nations, they say.
"Investors could gradually shift their money into risk assets after being concentrated in dollar-based assets last year," said Satoshi Nagami, head of global strategies investment group in Tokyo at Sumitomo Mitsui Asset that oversees the equivalent of $106 billion. "This trend should stay in place if the global economy doesn't slow down this year or next."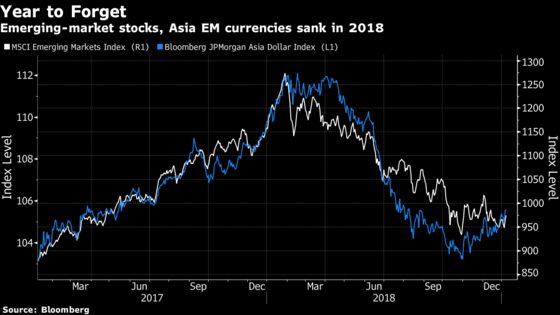 The MSCI EM Index of shares slid 17 percent last year, while all of the 24 most-traded emerging-market currencies weakened against the dollar, apart from the Thai baht and Mexican peso. Developing-nation assets fell out of favor due to signs global growth is slowing and as the Fed raised rates four times, attracting money to the greenback.
"When will emerging markets finally recover?" is one of the major questions facing traders and investors at the start of 2019. Strategists have forecast a revival a number of times since the slide in the asset class started early last year but each time they have plumbed new lows.
A recovery may be getting closer, according to Yoshinori Nagano, managing director and head of research department in Tokyo at Daiwa Asset, which manages the equivalent of $154 billion.
Concerns over slowing global growth, U.S. monetary tightening and global trade frictions, which all intensified considerably in 2018, may ease this year, Nagano said. "At the moment, it may be difficult to invest in emerging markets, but we'll see opportunity in EM bonds and equities in 2019," he said.
A downturn in developed-nation stocks may also send investors seeking the alternative of emerging markets, said Shigeki Sakaki, chief strategist in Tokyo at Nomura Asset, which oversees the equivalent of $455 billion.
"Funds are expected to flow into EM stocks should the Fed halt monetary tightening by the first half of 2019," he said. "That could lead EM stocks to outperform those of developed economies."
Here are further comments from investors at Japanese asset management firms:
Latin America, Eastern Europe and Middle East, including Turkey, may recover relatively faster, but we are cautious about China and Southeast Asia due to concerns over the trade dispute
EM currencies were sold last year and many became too cheap; countries such as Brazil, Indonesia and Turkey which have had to raise their interest rates to defend their currencies in the past, may have room to cut their rates
Biggest theme for 2019 will be the Fed's monetary policy; the central bank may hike rates in March, but doubtful in June
Sumitomo Mitsui Asset's Nagami:
Asian nations look attractive. If the Chinese economy isn't too bad, peripheral nations may not do that poorly either
Stocks are likely to outperform due to solid corporate earnings, while it's difficult to generate large capital gains from bonds due to their low yields
Difficult to project economic outlook for China due to political uncertainties, but other Asian nations look attractive; unstable political conditions may prevail in countries such as Mexico, Brazil, Turkey and South Africa
In developed nations, Japanese stocks look to have more potential to gain, followed by U.S. equities and then European shares
Nikko Asset Management Co. Chief Strategist Naoki Kamiyama:
Nikko Asset is bullish on global equities, while forecasting bonds to be flat
"German and Japanese stocks should be relatively strong, while U.S. equities, which have been driven by technology shares, may struggle"
The prospect of Japan overcoming deflation may increase in 2019, although that won't be clear until 2020; Japan's outlook will improve as an increase in exports may lead to a reduction in inventories and higher capital spending