Slack's Rapid Sales Growth to Be on Display in First Earnings Report
(Bloomberg) -- Slack Technologies Inc.'s rapid revenue growth will be on display when it reports earnings for the first time as a publicly traded company on Wednesday afternoon.
Some analysts expect the workplace-collaboration software company to top Wall Street estimates for second-quarter sales of $141.6 million, an expansion of 54% from the same period a year ago.
"We like WORK into the print and believe you can own at least a normal position into what should be a nice upside," wrote Canaccord Genuity analyst Richard Davis, referring to Slack by its ticker symbol. He's expecting revenue as high as $150 million for the quarter.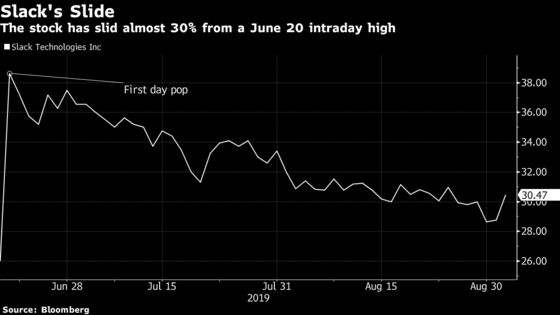 After an initial 49% surge on its first day of trading in June, Slack has been on a long slide since listing its shares directly. The stock is down almost 30% from a high on June 20, which may have lowered the bar for many investors.
Baird notes that analysts will also be watching billings trends and the company's forecasts. Slack is expected to report total billings of $161 million, up 40% year-over-year, according to Canaccord.
"We are positive on the long-term growth opportunity driven by existing and new customer expansion and product additions," Baird analyst William Power wrote in a research note.
The options market is implying a 16% move in the stock after the earnings report, Bloomberg data shows.
What Bloomberg Intelligence says
Slack's sales growth will continue to decelerate in the near term as it remains in the early stages of its enterprise opportunity, in our view. Less than 1% of its customer base is made up of large customers with more than $100,000 of annual recurring revenue. It's expected to add 74 customers with over $100,000 of annual recurring revenue in fiscal 2Q20, vs. 61 in 2Q19, based on Bloomberg MODL consensus.

--Andrew Eisenson, technology analyst
2Q revenue estimate $141.5 million (range $140.0 million to $148.0 million)
2Q loss per share estimate 19c (range loss/share 15c to 20c)
3Q loss per share estimate 7c (range loss/share 6c to 10c)
3Q revenue estimate $154.2 million (range $151.0 million to $161.0 million)
FY revenue estimate $607.2 million (range $592.0 million to $691.0 million)
FY adjusted loss per share estimate 51c (range loss/share 31c to $1.98)
9 buys, 7 holds, 1 sell
Avg PT $37.27 (~21% upside from current price)
Implied 1-day share move following earnings: 15.7%
Earnings release expected Sept. 4 after market close
Call 5pm (New York time), 866-211-3197 password: 5175868