SL Green to Sell Amazon-Leased NYC Offices for $953 Million
(Bloomberg) -- SL Green Realty Corp. is selling an office redevelopment in Manhattan's Hudson Yards area that's leased to Amazon.com Inc. and First Republic Bank.
The real estate investment trust is under contract to sell 410 10th Ave. for about $953 million, according to a statement Wednesday. The buyer is 601W Cos., according to a person with knowledge of the deal, who asked not to be identified because the details are private.
A representative for 601W Cos. didn't immediately respond to requests for comment. SL Green declined to comment beyond the statement.
While the property was intended to be held as a long-term investment, its sale would allow SL Green to reduce debt and raise cash for share buybacks, while achieving "extraordinary profits," Brett Herschenfeld, managing director, said in the statement. The company owns 71% of the property and will keep a 5% stake through the completion of the project.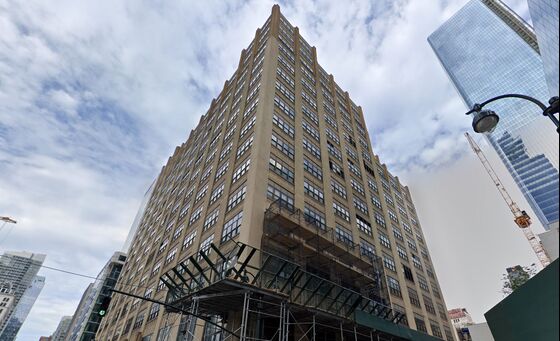 If the deal is completed, it would be among the largest in Manhattan since the pandemic hit in March, freezing most commercial-property transactions. The sale shows that "well-leased buildings like this one, with long-term predictable cash flow, are still in demand," said Jeff Langbaum, a Bloomberg Intelligence REIT analyst.
SL Green, Manhattan's biggest office landlord, is in the middle of redeveloping the 20-story, 636,000-square-foot (59,000-square-meter) building between West 33rd and 34th streets. The work is expected to be finished in the third quarter of next year.
Bloomberg reported last month that Brookfield Asset Management Inc., which has invested nearly $5 billion in the Hudson Yards area, was weighing a bid for the tower. In July, Business Insider said SL Green was seeking $1.1 billion for the property.
Major New York landlords have been trying to firm up their balance sheets as the pandemic continues to roil the economy, forcing many restaurants and shops to close and leaving offices largely empty. SL Green's shares have dropped nearly 50% this year, and the REIT has been looking to sell debt on several buildings across the city over the past few months.
The project at 410 10th Ave. was refinanced with a $600 million construction loan provided by institutions led by Goldman Sachs Group Inc. and Wells Fargo & Co., SL Green said last month.
Darcy Stacom of CBRE Group Inc. represented SL Green in the transaction, which is expected to close this year. The deal was reported earlier by Real Estate Alert.