Sky Is the Limit to Buy a Top Asset: European Equity Pre-Market
(Bloomberg) -- Euro Stoxx 50 futures are down 0.3% as it's a risk-off mood again today after China called off planned trade talks with U.S. officials and $200 billion worth of Chinese products will be subject to tariffs from 12:00am Washington time. Most metals are retreating, while the dollar is mostly unchanged against European currencies. Over the weekend, ECB governing member Ewald Nowotny said the policy tightening camp was gaining ground.
Here's the story everyone will be talking about today: intrigue in French supermarkets. Carrefour denied it approached Casino Guichard-Perrachon only hours after the rival grocer said its board rebuffed a proposal for a possible merger.
In other M&A news, the Sky sale process may finally have its conclusion after Comcast beat Fox in the auction for the broadcaster with a $39 billion bid, a deal that has been two years in the making. Comcast will start buying Sky shares in the market in order to reach the 50% threshold before the Oct. 11 deadline. Current shareholders just got an extra 9% for their patience as Comcast will pay 1,728p for the shares. What Fox will do with its 39% stake is still unknown.
Looking at the oil rally, traders are looking increasingly convinced the it has more juice, while the OPEC meeting on Sunday showed its members clearly have no urgency to boost their output. Looking at this trend, oil majors are worth keeping an eye on, with Total, Shell and BP making 50% of the SXEP.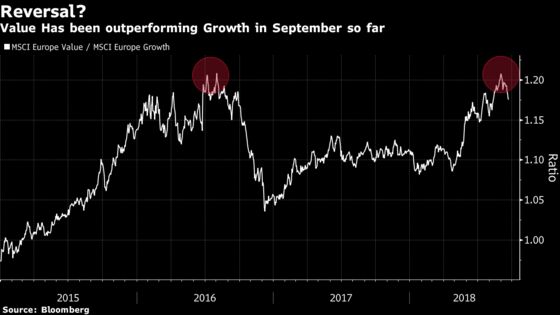 Switching to gold, the bullion is still holding around its $1,200 level. Credit Suisse strategists have now abandoned their bearish view on the precious metal, while BofAML sees gold topping $1,300 on fiscal deficit. What's in it for gold miners? Their valuation level is near an all-time low, the rand is weak and GEM stocks have underperformed their U.S. peers. Randgold and Barrick Gold are in late-stage talks of what would be a substantial cross-border deal. The sector might have just become hot.
Looking at European shares, the MSCI Europe Growth Index is now back to its 10-year highs relative to the MSCI Europe Value Index, at 1.2x, propelled by a recent strong performance from technology (ASML, SAP), health care (Roche, Novo Nordisk) and consumer staple (Nestle, Diageo), according to Bloomberg Intelligence strategists Laurent Douillet and Tim Craighead. Looking at the chart below, are we finally in for a reversal in value stock underperformance?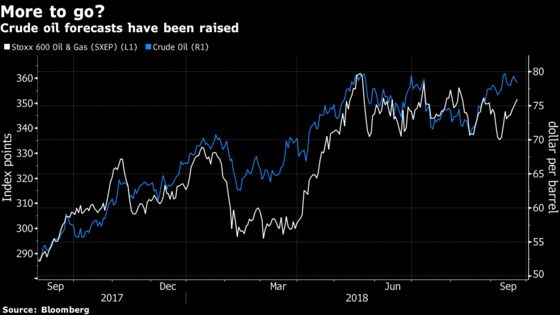 Finally, it is common knowledge that fish oil is good for the body, but on financial markets, fish and oil seem to be the winning combination. As surprising as this may be, the world's best performing benchmark stock index this year is in Europe, and it owes it all to salmon and oil. The benchmark OBX equities index is up almost 16% so far this year, making it the best in the world in dollar terms among primary market indexes.
"We conclude that it makes sense to overweight Dividend Yield as a style in Europe, given we are further into a slowdown, the very attractive valuations on high yield stocks, and the potential for the style to outperform despite the possibility of some upward movement in yields with QE ending," Bernstein strategist Sarah McCarthy wrote in a note.
NOTES FROM THE SELL SIDE:
Morgan Stanley cut Inwit to underweight from equal-weight with co. now facing tougher comps and higher hurdle rates following a period of strong growth in profitability.
Berenberg said Coloplast shares are "looking a little vulnerable" at these levels, with limited justification for raising near-term growth forecasts, and some reasons to be more cautious about near term-margins; cuts to sell from hold (PT DKK 560).