Six Flags Plunges to Five-Year Low on Warning Over China Parks
(Bloomberg) -- Six Flags Entertainment Corp. fell as much as 19%, the stock's worst loss ever, after warning that troubles with its planned China theme parks will hurt revenue -- and could lead to all of the projects being canceled.
The stock tumbled as low as $35.28 in New York trading Friday, its lowest intraday level since October 2014.
Six Flags said its Chinese development partner, Riverside Investment Group, "continues to face severe challenges due to the macroeconomic environment and the declining real estate market in China" and had defaulted on required payments to Six Flags. Riverside didn't immediately respond to a request for comment.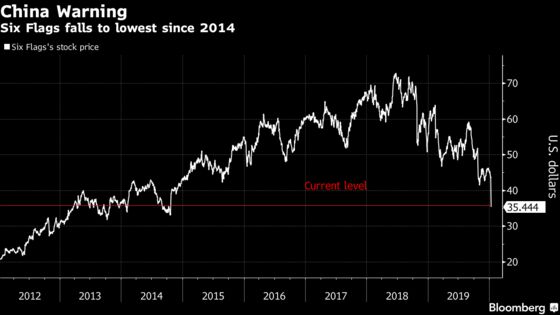 "The loss of all the China projects would result in no revenue for that market if Riverside does not cure the default and the company is not able to engage other partners to complete any of the projects," Six Flags said in a filing Friday.
Six Flags is developing parks in Haiyan, in Zhejiang province, and in the Bishan district of Chongqing, according to its website.
The domestic market provided Six Flags no respite. The Grand Prairie, Texas-based company said attendance at its North American parks fell "due to softer than expected season pass and membership sales, primarily during the holiday sales periods." That probably reduced fourth-quarter revenue by $8 million to $10 million compared with the year-earlier period, Six Flags said.
What Bloomberg Intelligence Says

"While we believe Six Flags' new CEO Michael Spanos could mitigate challenges it's facing in China given his business experience and familiarity with the region, the default of its partner, Riverside, adds complexity. We're optimistic about the company's tiered-membership strategy, but expect the new chief to eliminate its unrealistic target of achieving $750 million in Ebitda by 2021."

--Caitlin Noselli, leisure analyst

Click here to read the research.
The China and North America warnings are "clear indicators that trends in the core business continue to deteriorate. We think also the dividend could be at risk, which could create further downside," Tyler Batory, an analyst at Janney Montgomery Scott, said in a note Friday. He cut his recommendation on the stock to neutral from buy.
Six Flags shares were down 19% last year, while peer SeaWorld Entertainment Inc. rose 44%.