Hong Kong Stock Rally Looks in Healthy Shape One Year After Peak
(Bloomberg) -- A year after the euphoria that sent Hong Kong stocks to a record high, investors are checking vital signs for clues on how this year is going to shape up.
Traders are treading with caution as uncertainty over the health of China's economy, impact from the Sino-U.S. trade war and tighter financial conditions continue to shake sentiment. Last year's January rally preceded the market's most painful sell-off since the global financial crisis, wiping out as much as $1.2 trillion in value.
While the Hang Seng Index is up 7.3 percent this year and a gauge of buying momentum is rising towards levels last seen a year ago, measures of analyst sentiment, market turnover, and valuation are still far from those peaks, while mainland investors are selling. Only 50 percent of Hang Seng companies are trading above their long-term averages.
Below is a rundown of how today's environment stacks up against that of 2018.
Another January, another rally for Hong Kong stocks with this month's pace of gains on track to be the best in 12 months. The Hang Seng Index ended a six-month losing streak in November, but fell again in December. The benchmark was about 17 percent down from last year's peak as of Friday.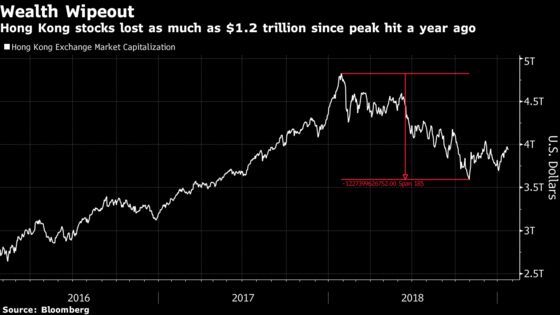 Buying momentum in Hong Kong stocks has reached a level not seen since last January's rally, with the 14-day relative strength index hitting an almost one-year high for the benchmark gauge. The MSCI Hong Kong Index, which tracks companies that generate revenue mostly from Hong Kong, edged into the overbought zone on Friday.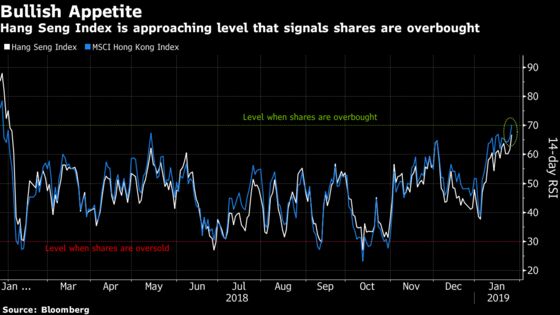 Strong buying momentum is being met by the availability of inexpensive shares. The Hang Seng Index remains one of the cheapest major indexes in the world, trading around 10.5 times its forward 12-month earnings. Shares are currently 7 percent cheaper than their 10-year average, according to Bloomberg calculations.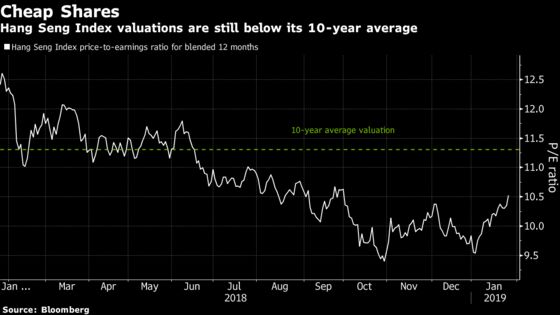 Hong Kong developers have kicked off 2019 with strident gains on the Hang Seng Index. Four of the top 10 performers are local property companies, amid some optimism over improving conditions for the local housing market. That has helped the MSCI Hong Kong Index to trade near a record versus the MSCI Asia Pacific.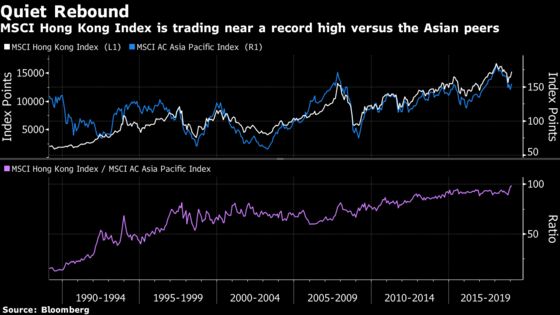 Analysts have trimmed their price targets this year, however, compared to last year's exuberant increases, demonstrating that while there are encouraging signs, there is still plenty of caution.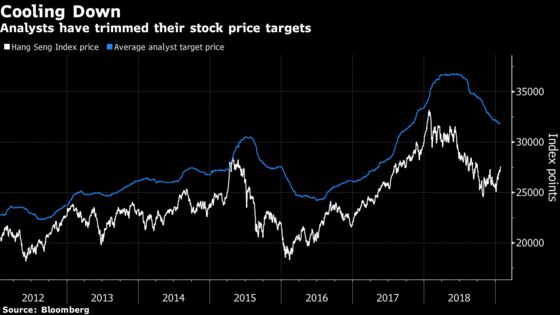 Despite of the rising bullishness, one notable set of investors aren't buying. Mainland traders have sold a net HK$2.9 billion of Hong Kong stocks via exchange links this month. Any return of inflows from the north could set the stage for greater gains in the city's market.