Sino Biopharm Shares Sink 12% in Hong Kong After Earnings Shock
(Bloomberg) -- Chinese drugmaker Sino Biopharmaceutical Ltd. plunged nearly 12% in Hong Kong after its third-quarter earnings missed expectations, partly due to the impact of a centralized drug procurement program on prices.
The stock fell as much as 14% before paring, in what was its biggest decline since December 2018. That's the worst reaction to any quarterly earnings reports going back to March 2010, according to data compiled by Bloomberg.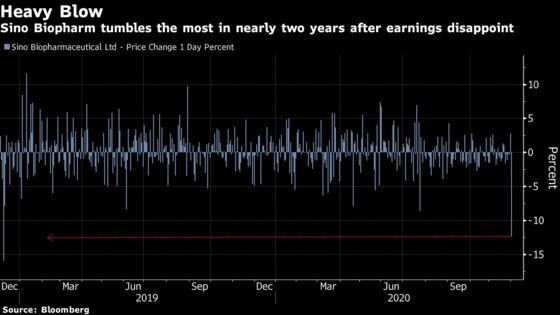 "The slump in results was due to the double hit from centralized procurements that slashed drug prices and the pandemic that led to weak traffic at hospitals and hurt drug sales," said Carol Dou, an analyst with UOB Kay Hian Investment Co. "I'd expect the headwinds to continue into the first quarter of next year."
Since late 2018, China has been driving down the prices of generic drugs through a fierce bidding process for supply contracts to public hospitals. The exercise, which covers everything from chemotherapy medication to hypertension and erectile dysfunction drugs, has caused prices to drop by more than 90% in some instances.
Beijing wants to cut spending on generic medications by tens of billions of dollars so that it can shift funds toward novel, top-of-the-line treatments for life-threatening diseases like cancer. The process has erased global companies' profit margins in China for their established medications that are no longer under patent protection, cutting off what had been significant revenue streams.
Sino Biopharm said in its earnings statement that it expected the effects from China's latest round of centralized drug procurement, which cut prices by an average 53%, to materialize in the last quarter.
In a research note, Daiwa analysts led by Dennis Ip noted that the company's revenue in the first nine months fell by 6% year-on-year. Excluding the impact of the procurement program, the company would have posted revenue growth of 13%, the note said.
Sino Biopharm was among the Hang Seng Index's top performers in the first half of the year, surging 34%. The shares have lost more than a third of their value since a record in late July.