Singtel Sees Singapore Budget Stimulus Softening Virus Blow
(Bloomberg) -- Singapore Telecommunications Ltd., which is bracing for a second year of profit decline, expects the government's stimulus measures will help cushion the impact of the coronavirus outbreak on its business in the city-state.
Singapore last week unveiled its most expansionary budget since at least 1997 to shore up the $364 billion economy after lowering the growth outlook. That support could help the wireless carrier cope with any drop in consumption of its roaming and pre-paid services on the island, said Yuen Kuan Moon, the firm's chief executive officer for Singapore consumers, as people curtail travel and spending.
"We have to be prepared for the worst if it doesn't recover as expected" by the middle of the year, Yuen said in an interview this week. Singapore accounts for about 38% of the group's revenue.
Singtel's net income fell 24% in the third-quarter, setting it on course for an annual profit decline for the fiscal year through March. Group Chief Executive Officer Chua Sock Koong termed the slowdown as "challenging" amid expectation that the virus outbreak "could see business sentiment subdued further." The company has said separately that it can also review costs where necessary.
The company's shares fell as much as 2.6% Friday in Singapore, the biggest intraday decline in more than two months, versus a 2.2% drop in the local benchmark index. The stock is down 11% this year.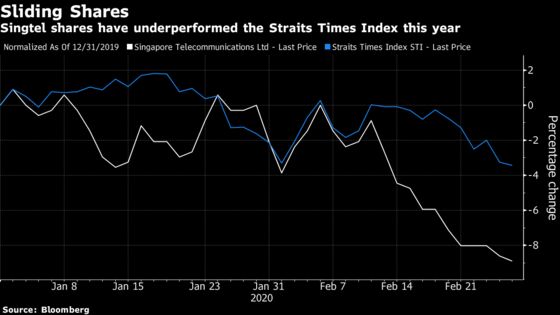 Singtel has split its management teams into two groups, enabled remote working and provided protective gear to its staff to help deal with the virus outbreak, Yuen said.
The mobile operator's revenue will track the economic slowdown, but recovery will be V-shaped, like the one after the SARS epidemic in 2003, he added. Singapore, which now has more than 90 cases of the coronavirus, lowered its growth forecast for 2020 to a range of -0.5% to 1.5%.
Here are more comments from Yuen, who is also Singtel Group's chief digital officer:
The roll out of 5G services across the world may see an impact from how China tackles the virus, since all the major vendors for 5G equipments have presence in the mainland
"A lot of countries in Southeast Asia are looking at opening up" their digital banking sectors. "They will be also likely to regulate by issuing licenses for such services." Singtel has partnered Grab Holdings Inc. to apply for a full digital banking license in Singapore.