Singapore Dollar Tumbles After MAS Flags Scope for Decline
(Bloomberg) -- Singapore's central bank said there's room within its exchange-rate band to accommodate some weakness in the currency to counter the coronavirus outbreak. The local dollar slid to a four-month low as traders boosted bets for an easing.
The currency, which is maintained in a band against a basket of peers, has been fluctuating near the upper end of its boundary since October and could track lower, the Monetary Authority of Singapore said in a statement Wednesday. It maintained its policy outlook and said it'll meet in April, as scheduled.
The assessment from MAS comes as traders are ratcheting up bets for Asian central banks to loosen policy to contend with the spread of a virus that has claimed almost 500 lives in China. Singapore's trade-reliant economy could prove to be especially vulnerable if the disease disrupts supply chains and saps demand for everything from travel to commodities and investment.
"The hit to the economy, both from tourism and supply-chain impact from China, has obviously opened the door to easing," said Mitul Kotecha, senior EM strategist at TD Securities in Singapore. The Singapore dollar "has reacted negatively, extending its recent decline, and will likely remain under pressure as markets increasingly price in easing."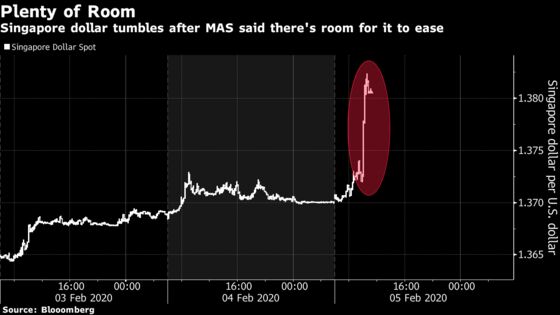 The Singapore dollar dropped as much as 0.9% to S$1.3824 against the greenback, the lowest since Oct. 10. It was the worst-performing currency in Asia on Wednesday.
"There is sufficient room within the policy band to accommodate an easing of the Singapore Dollar Nominal Effective Exchange Rate (S$NEER) in line with the weakening of economic conditions" due to the virus outbreak, the MAS said in a statement.
Even before the outbreak spread, the city state was already planning measures to prop up an economy reeling from the effects of the U.S.-China trade war. The disease has added to worries about the outlook, with 24 confirmed cases to date.
The government expects gross domestic product to expand 0.5%-2.5% this year after growing 0.7% in 2019. Finance Minister Heng Swee Keat is expected to deliver a supportive budget on Feb. 18.
At its last review in October, the MAS eased policy for the first time since 2016 and signaled it was ready to make further adjustments amid rising risks to the growth outlook.
The central bank guides the local dollar against a basket of currencies, adjusting the pace of appreciation or depreciation by changing the slope, width and center of a currency band.
It doesn't disclose details on the basket and how it works. Australia & New Zealand Banking Group Ltd. estimates the most heavily weighted are the U.S. dollar, ringgit, yuan, euro and yen.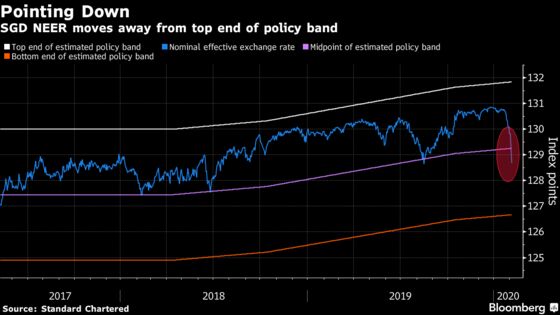 The yuan's movements will be a focal point for Singapore dollar investors, with China's currency expected to come under more pressure from the virus-induced fallout, according to S&P Global Ratings.
"The more the dollar-RMB pushes above 7, the more people will think the MAS is going to do something," said Shaun Roache, Asia-Pacific chief economist at S&P. But for now, it's "communicating to the market that there's already a little bit of ability for the exchange rate to absorb some of the shock without a policy change today."