Singapore Plans New Bill to Attract More of World's Millions
(Bloomberg) -- Singapore, one of the world's easiest places to do business, is making it simpler for investment managers to register funds locally as the city-state goes after a bigger slice of the $69 trillion global asset-management industry.
While many asset managers have offices in Singapore, most of their funds are still registered in offshore jurisdictions. A new corporate structure bill introduced in parliament Monday aims to offer investors greater flexibility in that regard, and can be used for both traditional and alternative strategies, the Monetary Authority of Singapore said in a statement.
The so-called Variable Capital Company framework will boost safeguards by requiring the assets and liabilities of each sub-fund to be segregated. It will also allow funds to use both Singapore and international accounting standards, according to the MAS statement.
BlackRock Inc. and Fidelity Investments are among global fund managers that do business in Singapore and that are seeking to capitalize on the region's economic expansion and ballooning wealth. Asia minted almost 2,000 new millionaires every single day last year, according to data from Capgemini SE. Assets under management in the Southeast Asian nation rose 7 percent to S$2.7 trillion ($2 trillion) in 2016, MAS data show.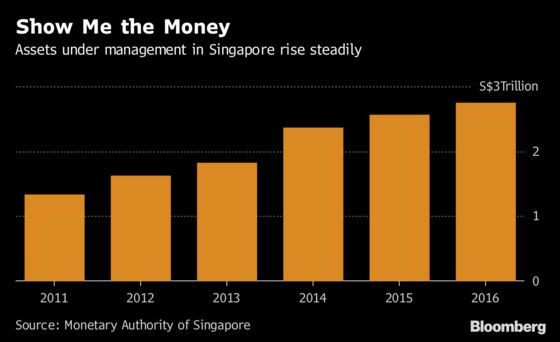 "The growth of fund-domiciliation activities will create opportunities for a wide range of service providers such as lawyers, accountants, fund administrators and fund custodians," said Ng Yao Loong, an assistant managing director at the MAS.
The bill takes into account public feedback received in 2017 as well as features from similar structures in other countries, the MAS said. Such bills typically become law after they're passed by parliament and receive the president's approval.
"Compared to funds domiciled in offshore jurisdictions, which are coming under increasing scrutiny, funds domiciled in internationally recognized jurisdictions, such as Singapore, which has a strong focus on delivering sufficient transparency and protection, are viewed as more trusted and therefore more marketable," said Armin Choksey, a Singapore-based partner at PwC.
The MAS, both the central bank and the regulator of Singapore's financial system, has been taking steps to anchor the island's position as Asia's fund management center amid competition from cities like Hong Kong. Last year, it simplified the regulatory framework for venture-capital managers and consulted on licensing requirements to allow for digital-advisory services.