Singapore Stocks on Bulls' Shopping List
(Bloomberg) -- Singapore stocks should soon become a favorite for investors looking for value.
That's because valuations, earnings growth and dividend yields are looking particularly attractive, according to strategists at Morgan Stanley Asia Singapore Pte. and DBS Group Holdings Ltd.'s wealth-management unit. Hit by concerns over the impact of the U.S.-China trade war and Federal Reserve monetary tightening, the benchmark Straits Times Index has slumped 15 percent since May and is hovering around its lowest level since January 2017.
Here is why the strategists see value in Singapore stocks: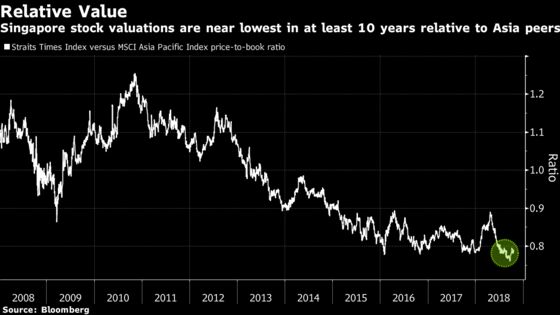 Shares in Singapore's benchmark index have fallen to a price-to-book ratio of about 1.1, compared with 1.4 for the MSCI Asia Pacific Index and 2.3 for the MSCI World Index of developed markets, data compiled by Bloomberg show. On a price-to-earnings basis, the multiple for the Singaporean gauge is near its lowest since February 2016 and 11 percent below its five-year average.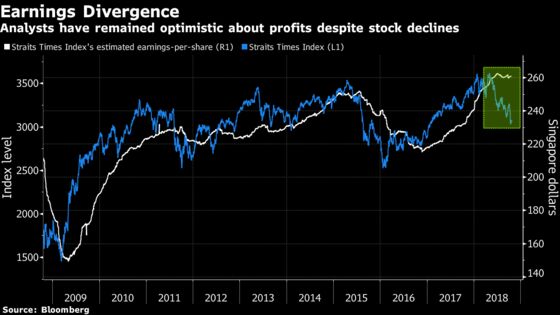 The equity slide hasn't hampered analysts' faith in Singaporean companies. On the contrary: they've raised their 12-month profit estimates for members of the benchmark index by about 8 percent this year. The central bank's move to tighten policy despite rising global trade conflicts is adding to the confidence about economic growth.
"Near double-digit earnings growth through 2020 and rising return-on-equity" are the key reasons why Singaporean equities are becoming more attractive, said Sean Gardiner, an equity strategist at Morgan Stanley Asia Singapore.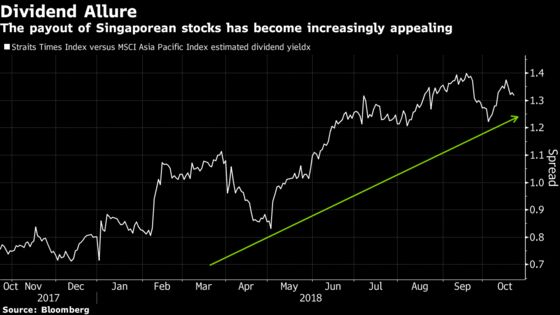 With a dividend yield of more than 4.5 percent in the past year, companies in the Straits Times Index are generating a lot more than the payout of 2.8 percent for those in the MSCI Asia Pacific Index (and 2.5 percent for MSCI World Index members). What's more, analysts expect the gap between the two will keep widening.
"Singapore now offers one of the highest dividend yields in Asia ex-Japan," said Jason Low, an investment strategist at DBS's wealth-management unit. "For investors looking for value and dividends, Singapore offers opportunities."