Singapore Air Falls After 81% Profit Plunge on Fuel Cost Surge
(Bloomberg) -- Investors are turning bearish on Singapore Airlines Ltd. after profit plunged 81 percent in the biggest decline in seven years.
Shares of the Singapore flag carrier fell as much as 2 percent Wednesday, and traded at S$9.36 as of 1:09 p.m. in the city-state. That's in contrast with other Asian airlines led by Korean Air Lines Co., which advanced after crude futures dropped the most in three years Tuesday on a darker demand outlook.
Net income fell on the steep fuel costs and a one-time charge at its Virgin Australia affiliate, Singapore Air said Tuesday. Last year's profit was also inflated by a one-time gain related to its Krisflyer program.
The latest result reflects a period of rising fuel costs and jet-fuel prices have weakened since then, UOB Kay Hian analyst K. Ajith wrote in a report Wednesday. "The street had not factored in losses from 20%-owned Virgin Australia," wrote Ajith, who has a price estimate of S$10.40 and recommends investors accumulate the stock near S$9.20-S$9.30.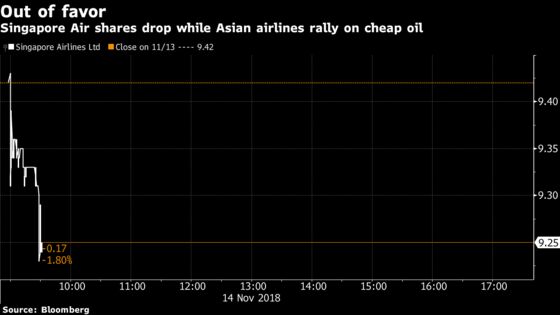 Singapore Air joins rivals such as China Southern Airlines Co. whose earnings have been hit by oil costs, the biggest expense for Asian operators. The Singapore carrier's earnings should improve for the rest of the fiscal year on weaker oil prices and a conservative hedging strategy, according to Bloomberg Intelligence.
China Southern's net income fell 52 percent in the same three-month period, while Air China's profit dropped 30 percent.
"Fuel price has been very volatile. Today, you saw how it has come down," Singapore Air Chief Executive Officer Goh Choon Phong said at a briefing Wednesday. "We will continue to hedge to ensure we manage the volatility."
The carrier's fuel expenses climbed 24 percent to S$1.16 billion in the quarter as average Brent prices soared 46 percent from the year before. It posted a fuel-hedging gain of S$151.7 million, compared with a hedging loss of S$3.3 million a year earlier.
The airline's quarterly losses from associate companies amounted to S$117.1 million, largely due to accounting adjustments made for its shareholding in Virgin Australia. Singapore Air, which is carrying out a transformation program to improve competitiveness and reduce costs, will pay shareholders an interim dividend of 8 Singapore cents per share.
Its passenger yield slipped 1 percent, reflecting competition in both its premium and economy offerings. Yields are a measure of the money earned from carrying a passenger for one kilometer.
The carrier is seeing strong demand in premium classes and a promising outlook for its cargo business, Mak Swee Wah, executive vice president for commercial, said at the briefing. During the fiscal second quarter, cargo yields climbed 9.9 percent, with shippers rushing to beat tariff increases sparked by the trade dispute between the U.S. and China.