Quant Pioneer Jim Simons Steps Down After 40 Years at the Top
(Bloomberg) -- Jim Simons, the billionaire luminary of mathematics and hedge funds, has settled on a number he can no longer ignore: 83.
About to cross that threshold on his next birthday, and having minted vast fortunes for himself, his employees and his clients, Simons is stepping down as chairman of his $60 billion investment firm, Renaissance Technologies.
"I believe it is time," Simons wrote in a letter to his investors. He will remain a member of the board and Chief Executive Officer Peter Brown will become chairman.
Years in the making, the news nonetheless marks the formal exit of a man who helped pioneer the math-and-computer-loving field of quantitative investing that has come to dominate so much of Wall Street.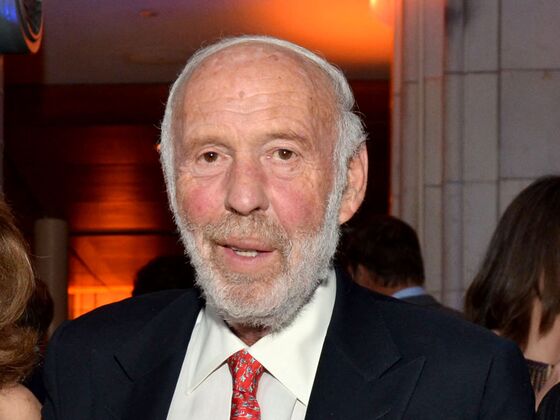 The founder is stepping away following a difficult year. Renaissance's public funds lost more than 30% last year. By contrast, the firm's Medallion fund, which is open only to employees, was up more than twice that amount, according to a person familiar with the firm. Medallion, one of the first quant funds, has historically returned about 40% a year on average.
Simons established Renaissance in 1982 and was joined 27 years ago by Brown and Bob Mercer. The two later took charge of all of the firm's research and trading activities and became co-chief executives in 2010.
Brown took over as sole CEO after Simons asked Mercer to step down. Mercer's backing of organizations such as the conservative website Breitbart News and the consulting firm Cambridge Analytica brought a wave of negative publicity to the secretive firm.
The Wall Street Journal reported the news earlier Thursday.
Simons's son, Nathaniel, who was named co-chairman at the beginning of 2020, has also left that post but will remain on the board. Last year, the firm doubled the number of directors, opening the way for a new generation of board members to guide the business, which has led Simons to amass an estimated net worth of $22.9 billion, according to the Bloomberg Billionaires Index.
"Renaissance has been one of the great joys of my life," Simons said in the letter. "When I started the firm, I realized, as I always have, that the key to success is to surround oneself with outstanding and brilliant people."