Silver's Selloff Accelerates With Reddit Frenzy Unraveling
(Bloomberg) -- The buying frenzy that sent silver to an eight-year high has stalled out.
Silver futures in New York fell as much as 10% as traders closed out positions after CME Group hiked margin requirements. Meanwhile, Reddit posters turned their attention to GameStop Corp. losses amid a growing backlash against the silver trade. BlackRock Inc.'s iShares Silver Trust, the short-squeeze target of retail traders on Reddit last week, slumped more than 8%.
The silver market was roiled in the past week after a series of posts on the WallStreetBets forum calling for a "short squeeze." iShares Silver Trust had a combined net inflow of $1.5 billion on Friday and Monday, silver options trading surged and prices swung dramatically before spiking to the highest since 2013. By Tuesday, plunging shares of GameStop and AMC Entertainment Holdings Inc., two of the popular trades with Reddit crowd, contributed to silver's retreat.
"I think the platforms have deflated the Reddit legions on GME, and that is having a palpable impact," said Tai Wong, head of metals derivatives trading at BMO Capital Markets. "If they can't keep GME up, they are not going to be playing in silver."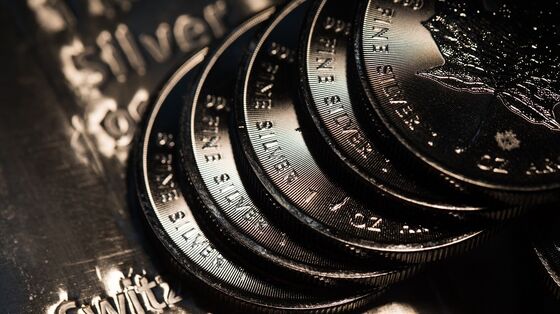 Backwardation -- a market structure where nearby contracts trade at premiums to later-dated ones -- has come out of the futures market after a brief appearance, and at least one European coin dealer said demand was getting back to normal after a buying surge that overwhelmed retail websites across the globe over the weekend. Analysts from HSBC Holdings Plc to Commerzbank AG had warned the rally would be hard to sustain.
The London Bullion Market Association said that more than 1 billion ounces of the metal traded on Monday, near the most on record.
"One of the main drivers this morning, and this is one of the lessons for newbies in the silver market, is that CME raised margins on silver," said Bob Haberkorn, senior market strategist at RJO Futures. "If you bought a futures contract, that would require more money to have in your account to hold that position, so there has been a lot of liquidation across the board. With increased margins, it takes a lot of participants out of this market."
Silver futures for March delivery fell 10% to settle at $26.402 an ounce at 1:25 p.m. on the Comex in New York. Spot silver slipped 9%, while gold, platinum and palladium also declined.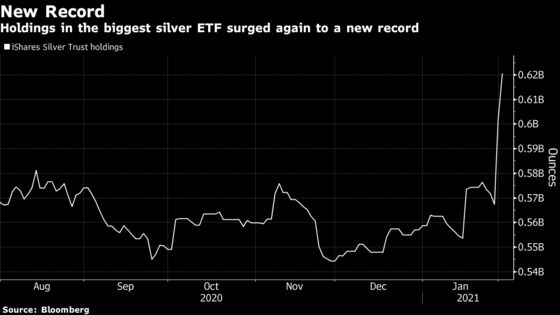 Goldman Sachs Group Inc. reaffirmed that silver is its preferred metal, though noted that the manic Monday rally was never going to be enough to squeeze the shorts as those positions are backed by physical stock.
Read: Well-Timed Bets Into Silver ETF Made Someone Some Money
"In the current environment, a coordinated surge in investment by retail traders into the silver market would simply raise volatility and generate small regional dislocations in supply-demand dynamics," Goldman analysts including Jeffrey Currie said in a note. "While the silver market will likely survive this intense focus, what this event does represent is that populism is still a growing political force, now with the power to move markets."
On the WallStreetBets board, sentiment has turned decidedly against silver. Users speculated supporting posts may be part of a pump-and-dump scheme -- or that hedge funds may have infiltrated the board.
In the physical-silver trade, dealers presented a mixed picture. In Singapore, orders remain high and U.S. Mint American Silver Eagle one-ounce coins are commanding a premium of 46%, more than double a week ago, said Ronan Manly, a precious metals analyst at Singapore dealer BullionStar.
But in Switzerland, "it looks like interest is getting back to normal," said Alessandro Soldati, chief executive officer of dealer Gold Avenue, although he said premiums remain high. "Yesterday was a really hectic day."