Traders Voice Fresh Covid Worry: 'The Broad Public Is Waking Up'
(Bloomberg) -- Los Angeles has reinstated indoor mask requirements. Sydney has tightened lockdown measures. Athletes in Japan for the Olympics are testing positive for Covid-19.
On Monday, many got a jarring reminder that the coronavirus pandemic hasn't gone away, with anxious investors worried the resurgences could erode economic growth and reverse a rally in equities that had reached record highs as recently as last week.
"The rise in the variant, the 'Oh my gosh, are we going to get shut down? And then even if we don't get shut down, is growth going to slow?'" are thoughts driving the selloff, said Kim Forrest, founder and chief investment officer at Bokeh Capital Partners.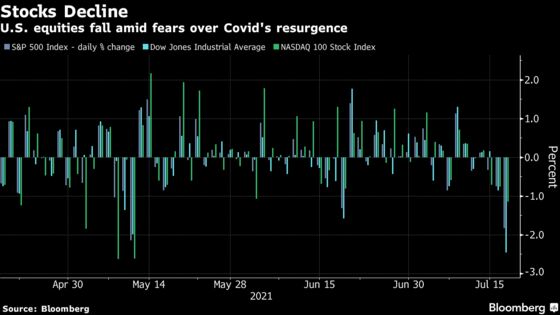 Volatility spiked, with energy, financials and industrials sectors leading declines, amid a fall of as much as 2% for the S&P 500. The Dow Jones Industrial Average fared worse, dropping roughly 2.4% at one point. The CBOE Volatility Index, known as the market's fear gauge, jumped the most since February.
Investors returned to their favored stay-at-home plays, with a basket tracking those types of stocks besting one tracking reopening names by more than 3 percentage points. Stocks like Peloton Interactive Inc. jumped, with the exercise-equipment maker up more than 7%. Meanwhile, anything tied to the travel or leisure industry got dinged, with an index tracking airlines down more than 6% at one point, the most since September.
"The markets are starting to discount a meaningful slowdown in economic growth," said Scott Knapp, chief market strategist at CUNA Mutual Group. "The cause is investor expectations of slower economic growth and then you add to the mix an accelerant like the delta variant and then you get a day like today."
That the reflation trade has been losing steam is no secret -- investors have in recent weeks fallen out of love with names tied to the economic reopening as many argued so-called peak growth means the pace of the expansion is set to slow. But that came into sharp focus Monday, with the tech-heavy Nasdaq 100 holding up better than the broader market.
Here's what other market-watchers are saying about Monday's session:
Keith Lerner, chief market strategist at Truist Advisory Services:
"The broad public is waking up to the change in the Covid trends, especially the delta variant. It's hitting home this weekend and has become more high-profile. The numbers had started to get worse in the past month and I don't think people had been paying attention. As we see the Covid numbers start to move up faster, that's caught some folks off guard," he said. "When there is more uncertainty, one of the first steps people do is take a little risk off the table. What does this mean for reopening? What does this mean for travel?"
David Donabedian, chief investment officer of CIBC Private Wealth, US:
"Covid has returned to the front burner of investor concerns right now," he said. "The rise in Covid cases here and worldwide has prompted concerns that the economic growth surge will peter out. There is worry that businesses and consumers will retrench, although this has not happened yet."
Mike Bailey, director of research at FBB Capital Partners:
"Stocks were up and waiting for a negative catalyst. Covid fears and delta variants are delivering the unexpected bad news. I think we are seeing a mosaic effect, where investors are getting nervous with new mask mandates in LA, Covid threatening the Tokyo Olympics, and other hot spots in places like Singapore that are relevant to global trade."
Chuck Cumello, president and chief executive officer of Essex Financial Services:
"You've got definitely a little bit of a pullback going on but it is coming on the heels of record highs. But I think right now you've got a trend that is decelerating. You're starting to hear 'peak growth,' that we've reached 'peak growth.' I don't think you can make the argument that we're going to step on the gas here and accelerate even further. I think it's the opposite -- you're going to slow down from a very rapid rate of growth," he said. "The point is, the economy is going to be slowing down and everyone has to reevaluate what their premises are looking forward."
Debbie Cunningham, chief investment officer of global liquidity markets at Federated Hermes Inc., said on Bloomberg TV:
"There's a lot up in the air right now from an economic standpoint, from a delta variant and what's happening from a virus standpoint, what that means for continued growth -- we think it's pretty strong through the rest of this year and into the beginning of 2022 but then what happens? So there's lots of questions out there and the confusion and the discussion from a bond market strategy and structure portfolio standpoint is pretty wide, it's pretty varied. It runs the gamut at this point."
David Kostin, chief U.S. market strategist at Goldman Sachs Group Inc.:
"There's no question getting up this morning and seeing 10-year Treasury yields on a nominal basis below 1.20% is certainly surprising. It's not been the general belief in conversations with most people who have the view that rates are likely to go higher. That has been a surprise -- would I call that a growth scare?" he said on Bloomberg TV. "Basically, the fundamentals are the economy is growing, revenues are growing, you want to think about the story in 2022. The real risks right now -- one is rates, prospect is from this point forward, perhaps go higher, and taxes -- both corporate taxes and also capital gains taxes. Those are your big risks."