Clashes in Algiers as OPEC Nation Holds an Election Few Want
(Bloomberg) -- Sporadic clashes erupted in Algeria's capital as authorities pressed on with a tightly controlled presidential election rejected by protesters but billed as the OPEC member's only way to avoid chaos.
Police fought skirmishes with demonstrators in central Algiers on Thursday, hours after polls opened to elect a successor to President Abdelaziz Bouteflika, who ruled the North African nation for 20 years until his resignation in April amid mass protests. The vote has been delayed twice, and the five candidates -- all of them regime supporters -- have been met by sparsely attended rallies, defaced posters and barrages of eggs and tomatoes.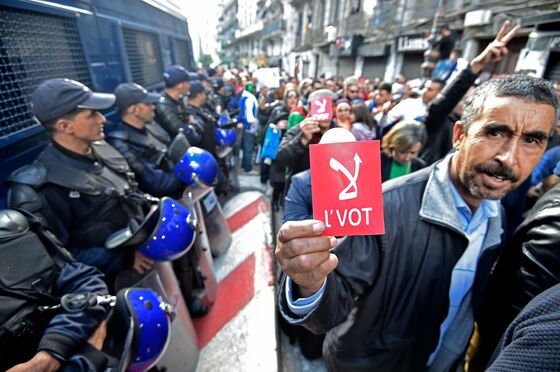 The candidates include former Prime Minister Ali Benflis, who unsuccessfully challenged Bouteflika in 2004 and 2014, as well as Azzedine Mihoubi and Abdelmajid Tebboune, former culture and housing ministers, respectively. Mihoubi has the backing of Algeria's main party, the National Liberation Front. Preliminary results are expected Friday.
The economic stakes are high for Algeria, already roiled by nine months of crippling protests and where activists have kept to the streets to demand the removal of "le pouvoir," an elite of military, government and business figures that's ruled since the country's independence from France in the 1960s.
For years the country relied on bumper oil revenues to fuel a subsidy system that kept the youth-majority population quiet. But the slump in global crude ate into its foreign-currency reserves, forcing the government to consider breaking a long-standing taboo by turning to external borrowing.
"All the candidates forgot that Algeria today doesn't have the tools to build an economy, institutions and a democracy," said Abed Charef, a political commentator and founder of the independent al-Khabar newspaper.
"At best, this election will solve a tiny fraction of the problems confronting the pouvoir," Charef said by phone. Not holding the vote might have risked "the collapse of state institutions," he said, but going ahead won't appease the people or improve the economy.
In the weeks before the election, a series of corruption trials targeting former officials, including two ex-prime ministers, suggested authorities were making some piecemeal concessions to protesters' demands. But the chief of staff of the powerful army, Ahmed Gaid Salah, insisted the vote is the only way to avoid the kind of chaos that engulfed Algeria during its 1990s civil war.
Fresh demonstrations calling for a boycott erupted on Wednesday, with unrest continuing into polling day. Some election stations in the Kabylie region were closed, while protesters ransacked the election commission's office in Bouira town, TSA Algerie reported.
Some 24.3 million, or about 57% of Algeria's population, are registered to vote. The election commission said turnout was 7.9% nationwide as of 11 a.m., acknowledging "some problems" at 5% of polling stations.
One wheelchair-bound man sporting a burly mustache appeared on Ennahar TV as he came to cast his ballot, pledging allegiance to the army chief. "All I want to say is 'Long live Gaid Salah," he said. "We are ready to burn for Gaid Salah."
Within the protesters' ranks a different message rang out. "We have said there can be no vote," they chanted.
(An earlier version of this story corrected the percentage of population in the third-last paragraph.)