Short Traders Mimic Cash Investors With Two-Way Bet on EM Stocks
(Bloomberg) -- Short traders are betting that a rebound in emerging-market equities will be confined to benchmark stocks, leaving shares of smaller companies to extend this year's losses.
Traders who profit from market declines have raised bearish wagers on the $46 billion iShares Core MSCI Emerging Markets Exchange-Traded Fund to a 20-month high on expectations the broader universe of stocks the fund invests in will continue its worst performance since 2015. But they have cut the short interest on the $29 billion iShares MSCI EM ETF, which only buys stocks in the benchmark gauge, to the lowest level since June.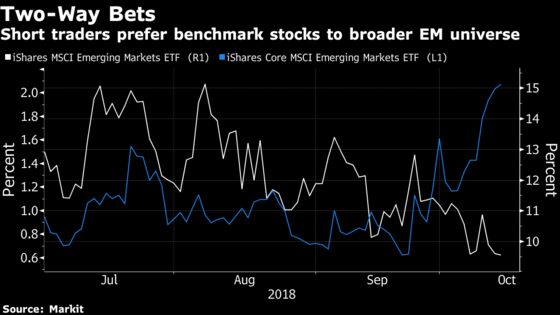 Such two-way bets have already established themselves in the cash market. While all segments of the developing world have been sucked into the rout, the pain for companies in mature industries with steady cash flows has been much less than for stocks of high-potential companies with volatile revenues. That sent value stocks to a 17-month high relative to growth stocks last week.
The underlying indexes between the two ETFs also show similar behavior. Even though both funds invest in emerging-market equities, the benchmark ETF's gauge has surged to a six-year high versus the measure tracked by the broader-market ETF.