Short Sellers Get Undressed: European Equity Pre-Market
(Bloomberg) -- Euro Stoxx 50 futures are 0.2% lower, after a mixed session in Asia marked by President Trump's announcement that a 10% levy will be imposed on $200 billion Chinese imports from next week, rising to 25% from January 2019. One thing that got spared: some Apple products. China's response? That the country can withstand "the worst" that could happen.
On the topic of trade, the striking disconnect between oil and copper since June gives an interesting picture of investors' perception of the U.S.-China trade war. China accounts for 50% of the red metal demand, while the U.S. remains the largest consumer of oil. So copper's underperformance shows that China is perceived as the losing side, but an improvement in the country's macro data could help narrowing the gap, according to Credit Suisse strategists. That could leave mining stocks playing catch up with the energy sector.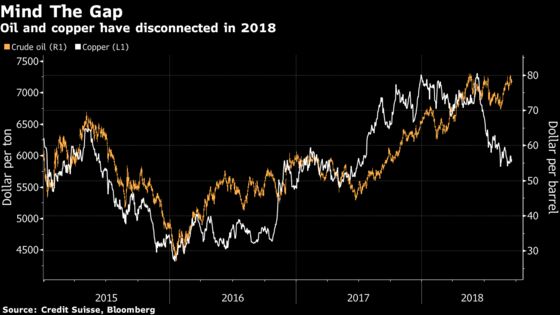 There's also been some more Brexit drama, with the Irish border back in the discussion, while French officials called the last mile of the talks "difficult" and Barnier insisting on the necessity of a deal preserving the single market. Dominic Raab told Die Welt that while he expects the EU to make concessions in view of time constraints, he does not rule out a no-deal Brexit. Sentiment stayed positive though, with the pound gaining and now holding above 1.31 dollar for the first time since July.
Elsewhere, base metals are holding well, while gold and silver are a tad weaker. The euro is showing further strength against the dollar.
Where is the market going? That's the question the Bloomberg survey of strategists is trying to answer. And the results published on Monday show cautiousness as the expectations have been revised down. The Euro Stoxx 50 is seen ending the year at 3,591 points, a 7.4% performance, although lower than the 3,609 points seen in August. The DAX is expected to be the top performing index (13,246 points, or 9.3% higher, although down from 13,380 points forecast in August). As for the FTSE 100, strategists expect it will end the year at 7,722 points, up 5.7%, compared with 7,714 forecast in August.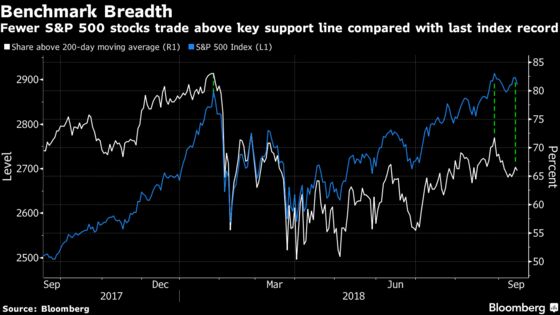 Back in the U.K., Ocado released a sales update. The stock is still up 131% this year despite a 14% share price fall in September. Investors will be watching for any new advances into the U.K. online grocer's technology platform and progress on its pacts with supermarket chains including Kroger Co. Short interest in Ocado tapered to 3.3% of shares outstanding on Sept. 14 compared with more than 20% in June 2017 when it was the most-shorted stock in the Stoxx Europe 600 Index, according to Markit.
Some other stocks to watch will be Nestle, which is continuing to sell its non-core assets in order to focus on its most profitable businesses. The largest food company agreed to sell Gerber Life Insurance for $1.55 billion in cash, the question is: what are they going to do with the proceeds?
Also keep an eye on Zalando, which issued a profit warning and now sees full-year revenue at the low end of their 20-25% growth corridor guidance. Worse, Ebit is now forecast to be significantly below analyst estimates. The shares are trading -16% on Tradegate at 8:20 CET.
Finally, Monday was not a good day for short sellers. Heavily shorted stocks Casino and H&M soared on positive news. Following a bank liquidity boost at its parent Rallye, Casino jumped 5.5%, with 2m shares traded, or about 10% of the short interest. But the biggest jump came from H&M, up 15% on a positive sales update, as 25m shares changed hands out of a staggering 200m shares short as of last Friday. Some caution is needed as those short squeezes could have further potential.
"European equities derive about 20% of revenues from EM, but contagion has been limited so far," Barclays equity strategists including Emmanuel Cau, write in a note. "Domestic activity is holding-up, and we believe that the weaker euro combined with resilient private sector and strong US activity will mitigate some of the negative impact from the challenging EM backdrop."
NOTES FROM THE SELL SIDE:
Berenberg initiates coverage of six European airlines, preferring cos. with long-haul networks as industry trends suggest downside risk to short-haul pricing, with buy ratings on IAG, Air France-KLM, Wizz Air, hold ratings on Ryanair, Lufthansa, and sell rating on EasyJet.
Jefferies is pushing a buy case on Tesco, wondering about the recent pullback and calling it a buying opportunity.
Morgan Stanley talks tobacco and its changing environment with new entrants, regulation, legalization and deliberate self-disruption. Prefers Swedish Match over Imperial Brands.