Short Sellers Feast on Hong Kong Stocks as China Investors Brace
(Bloomberg) -- Hong Kong's stock market has barely ever been this bearish.
Short-selling turnover soared to almost 18 percent of the total value of shares traded in the city Thursday, exchange data compiled by Bloomberg show. Such dominance has only been once in the past 20 years, in May 2016. The Hang Seng Index fell 0.2 percent Friday to cap its worst weekly rout since early February, when a U.S. volatility spike sent shockwaves across global markets.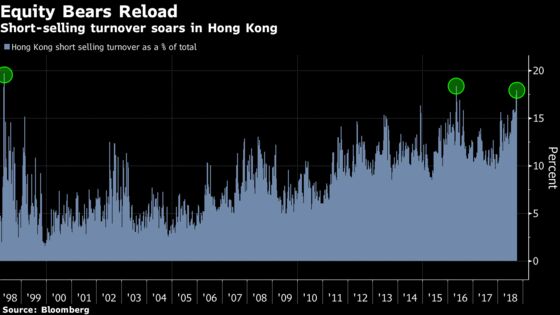 Bears are returning to target the city's equities and currency after being blindsided by a painful short squeeze last month, with this week's declines putting the Hang Seng gauge on course for its worst year since 2011. Concern that a trade war will aggravate an economic slowdown in China is weighing on the city's stock market, while a currency peg with the U.S. means the city will be forced to follow the U.S.'s tightening path.
The Hang Seng gauge fell into a bear market last month, following benchmarks on the mainland. Hong Kong's bad week sets the tone for stocks across the border in China, where trading will reopen Monday after a week-long holiday break.
With at least 14 percent of their outstanding shares sold short, Great Wall Motor Co. and BYD Co. are among the favorite targets for bears in Hong Kong, according to IHS Markit Ltd. data. Their shares have lost more than 5 percent this week.