Short Bets Against Muni Bond ETFs Are on the Rise
(Bloomberg) -- Speculators are increasing their bets against some of the biggest municipal-bond exchange traded funds, wagering the share prices will drop as rising interest rates sting the state and local government debt market.
Traders have boosted their short positions in State Street Corp.'s $2.8 billion SPDR Nuveen Bloomberg Barclays Municipal Bond ETF to the highest on record, according to the most recent figures. And short interest in BlackRock Inc.'s $9.4 billion iShares National Muni Bond ETF has risen the highest since late 2017 as tax-exempt debt keeps posting losses.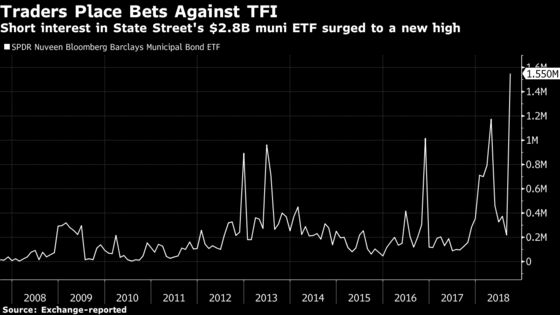 The short positions by late September add to other bearish signals facing the market, where ETFs serve as a bellwether for investor sentiment. Some of the largest muni ETFs, including the BlackRock fund, have seen record outflows in the last two weeks.
Related: BlackRock, Vanguard See Record Muni ETF Outflows After Sell-Off
State and local debt has posted a 1.3 percent loss since September as data showing the economy is expanding at a solid pace led investors to anticipate the Federal Reserve will continue to raise interest rates. Analysts are closely watching for signs of whether individual investors who dominate the market will react by pulling out funds, as they have en masse during previous downturns.