Shimao Bonds Sink to New Low as Firm Fails to Calm Investors
(Bloomberg) -- Shimao Group Holdings Ltd. bonds tumbled to new record lows after the developer's attempts to revive confidence in its finances failed to reassure investors.
Shimao Group's bond due next year plunged by more than 7 cents on the dollar despite reassurances from its Shanghai Shimao Co. unit late Tuesday that its business activities are normal and there's no event that would affect its ability to repay its bond principal and interest. The parent company also defended a recent transaction between two units that had prompted the Shanghai stock exchange to ask whether the deal would hurt smaller shareholders. 
This week's sudden selloff in Shimao Group's bonds and shares has unnerved the broader market because the developer was considered to be among the industry's stronger players. Shimao Group has blamed the selloff in its bonds and shares this week on unspecified "rumors," but its sparse public comments have added to concerns that it faces a cash crunch. The company is discussing a maturity extension for some investment products issued by Guotong Trust Co., according to the 21st Century Business Herald.
Shimao Group's note due 2022 fell 7.4 cents on the dollar to 56.5 cents on Wednesday, after tumbling 15.8 cents a day earlier, according to Bloomberg-compiled prices. Its stock tumbled as much as 5.1% before trading 3.2% lower as of 10:16 a.m. in Hong Kong.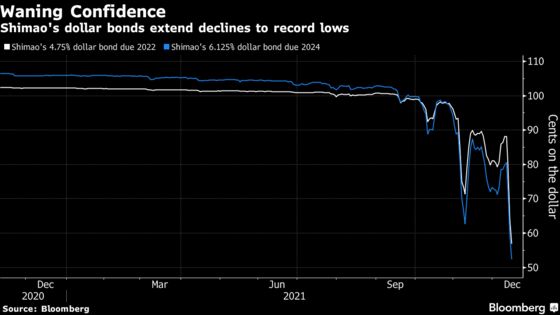 Unit Shanghai Shimao Co. issued its statement Tuesday evening after the Shanghai stock exchange asked the firm to "prudently assess" the impact of related debt given recent attention on borrowings of the listed company and its controlling shareholder. 
The Monday announcement that Shimao Group's services unit had agreed to buy some assets from Shanghai Shimao for 1.65 billion yuan ($259 million) was taken as a sign by some analysts that the developer is shifting money from stronger to weaker parts of the business.
The firm said it would respond to questions about its recently announced deal soon. It published a valuation report on the transaction to address some of the concerns. The price took into consideration factors including liquidity and a control premium, Shimao Group said in a response to questions from Bloomberg on Tuesday.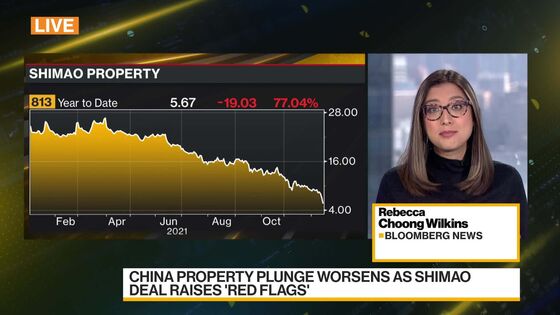 Shimao Group is seeking to raise funds for 30 million yuan of medium-term notes maturing Dec. 17 and a bond due Jan. 15, the 21st Century Business Herald reported, citing unidentified people. Shimao didn't immediately reply to Bloomberg's request for comment on the report. Shanghai Shimao has prepared funds to repay a 4.5% onshore bond due Friday, it has said.  
Shimao Group, founded by billionaire Hui Wing Mau, is China's 13th biggest developer by contracted sales and among the largest property debt issuers in the country, with about $10.1 billion in outstanding local and offshore bonds. A potential payment failure by a higher-rated firm like Shimao Group, which as of Tuesday still held both investment and better speculative-grade ratings, would risk unraveling a tentative recovery among Chinese dollar junk bonds.