Shell Overhauls Refining Operations at Biggest German Plant
(Bloomberg) -- Royal Dutch Shell Plc plans to reconstruct part of its giant Rheinland complex in Germany, moving away from products like diesel and gasoline in favor of lower-carbon fuels. 
The company plans, which are pending approval, will see it stop processing crude oil in the Wesseling section of Rheinland from 2025, it said in a statement. Shell will retain its chemicals operations at the site.
Shell's Rheinland is the latest refinery to announce the cessation of oil-refining operations in Europe. Covid-19 triggered a wave of permanent closures, while some sites such as TotalEnergies SE's Grandpuits plant outside Paris are being converted to biofuels. Sweden's Preem SE will stop processing crude at both its oil refineries by 2035 to meet carbon goals, it said this week.
"With the European Union's Fit for 55 package, and Germany's amended Climate Act, the expectation is that demand erosion for traditional oil products could accelerate," said Hedi Grati, director at IHS Market, "With a move like this, Shell is right-sizing its Rheinland complex."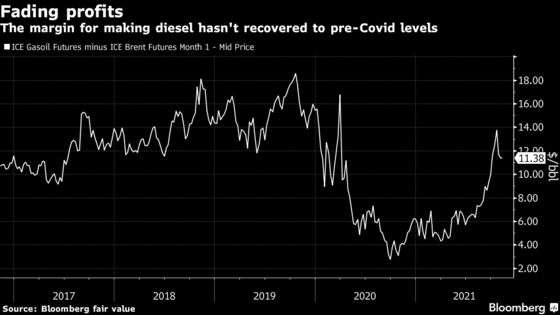 Shell, which is aiming for net-zero emissions by 2050, plans to build a plant at Wesseling that will produce bio-LNG for heavy goods vehicles, a project that already has approval. Final investment decisions have yet to be taken for the expansion of green hydrogen production and construction of a so-called Bio-PTL unit that will make synthetic aviation fuel using biomass.
So-called aromatics and olefins units found in the chemicals section will continue to operate, potentially requiring the continued use of feedstocks derived from crude. The chemicals section also makes components for traditional gasoline, and the reformer at the refinery -- a gasoline-making unit -- will remain in operation.
Much of European oil refining was barely profitable last year and this year's recovery looks to have been short-lived as rising costs for energy, hydrogen and carbon are now eroding margins. Wesseling's hydrocracker -- once one of the industry's most prized upgrading units -- will stop making diesel and will be converted to low-carbon products.