Shadow Rate Shows Fed May Be Nearing the End of Hiking Cycle
(Bloomberg) -- Investors take heed: while many economists -- and the Federal Reserve itself -- see the U.S. interest-rate hiking cycle at only about half-done, it may instead be closer to the end.
That's the implication from a study by quantitative analysts at Societe Generale SA. Their findings suggest there may be only three hikes to go before the Fed comes to a halt, at 2.5 percent for the upper bound of the policy target. The calculation is based on the so-called shadow rate, which aims to incorporate the effect of the Fed's past quantitative easing, and suggests that tightening is further along than nominal interest rates suggest.
"Our analysis shows that we might be at the late stage in the ongoing rate cycle," the strategists led by Andrew Lapthorne wrote in a note Tuesday. "Typically a rate-cycle peak is followed by recession, with an average about six months in between," and it calls for a "major repositioning in investment portfolios," they wrote.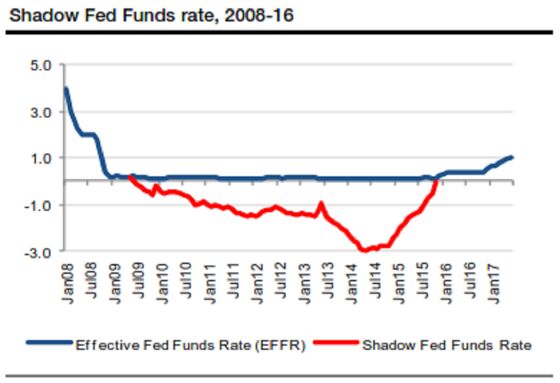 The most recent Fed "dot-plot" projections suggest the central bank will still be raising rates in 2020, in order to cool an overheating economy and avoid a recession. Fed officials signaled this week they're ready to increase the benchmark again at their June meeting, though sent no clear message on the number of moves thereafter in 2018.
The shadow rate, which is an estimate of the implicit underlying rate in a situation where the Fed was also pursuing quantitative easing and forward guidance, hit its bottom in May 2014, at about minus 3 percent. As the Fed ended QE, it steadily climbed starting in late 2014, reaching zero by December 2015.
Add the Fed's nominal rate hikes so far -- about 1.7 percentage points looking at the effective federal funds rate -- to that increase and the cumulative tightening in the current cycle has reached 4.7 percentage points, the French bank calculates.
"It can be argued that we are only about 75 basis points shy of the average peak of the rate cycles observed in the post-stagflation era of the Great Moderation," the analysts wrote. They predicted three more hikes, assuming a quarter-point move per meeting, extended over the next six to 12 months.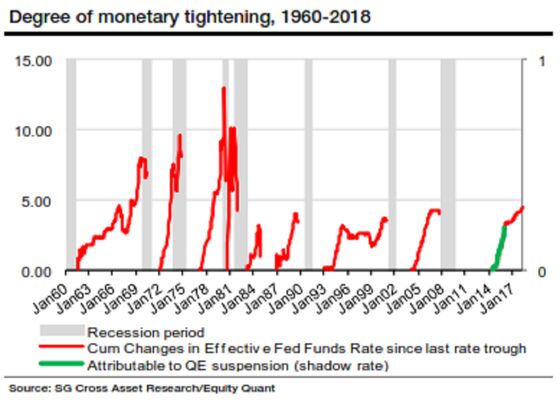 The strategists described that as their "best forecast," with the possibility the Fed's eventual trajectory could be different. Factors such as pent-up inflationary pressure could quicken the pace of tightening, while anything from trade tensions to geopolitical events could delay it, they said.
Whatever the outcome, investors should be ready for signs the rate cycle is coming to an end, according to the SocGen quant team. If the assessment is right, it "requires a realignment of strategies towards achieving a significant defensive posture," they wrote, with a gradual reduction in cyclical exposure to growth-type stocks.