There's a Sense of a Coming Storm in Emerging Markets
(Bloomberg) -- February 2020 feels just like April 2018 -- except that the coronavirus epidemic has replaced the U.S.-China tariff war as the dominant driver of a global risk-off move. Like the last time, traders are now realizing that the initial selloff was not a knee-jerk reaction and the threat to asset prices may be deeper than initially foreseen.
Thursday's moves in emerging markets reflected that growing unease. Stocks slipped along with most risk assets, while anything considered a shelter -- Treasuries, gold, the yen and the Swiss franc -- advanced.
South Korea and Indonesia posted some of the biggest equity declines, the former following another jump in virus cases. Pakistan's main index took a tumble too, as the country recorded its first infection. The bottom line is that the MSCI Inc.'s benchmark index for developing-nation stocks appears inexorably headed back toward the 1,000 mark for the first time since October, after crashing through its 200-day moving average yesterday. The last time it dropped meaningfully through that level -- in August last year -- it slipped a further 6.6% within a month. With so much uncertainty over the spread of the virus, it wouldn't be surprising if it retreated much faster this time.
Currencies looked less rattled on Thursday as the first back-to-back weekly gains for the euro kept a leash on the dollar. The U.S. currency has been alternating between weekly gains and losses since markets took note of the virus. That gave emerging-market exchange rates a respite, especially as new cases in China slowed. The other crosses told a different picture though, as the yen and the Swiss franc were making inroads against almost all their counterparts.
Malaysia's ringgit jumped as much as 0.5% and the main stock gauge rallied as investors awaited a possible stimulus package and the appointment of a new prime minister following the resignation earlier this week of Mahathir Mohamad. The equity gains would appear to support the notion, as expounded by Bloomberg Hong Kong-based reporter Moxy Ying today, that the index may be ripe for a rebound. The FTSE Bursa Malaysia KLCI Index just crashed out of its bull run, with a third of its members hitting new 52-week lows.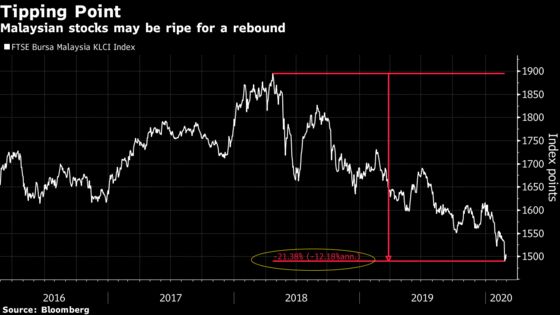 South Korea provided the surprise of the day after the central bank avoided a widely anticipated interest-rate cut. The won rallied as much as 0.6% versus the dollar at one point before slipping back to trade little changed. Governor Lee's decision to provide targeted interventions could provide support to the economy without weakening the won. That could well become a boilerplate for emerging economies caught in a catch-22 between slow growth and weaker currencies.