Semiconductor Stocks Post Worst Three-Day Plunge Since 2014
(Bloomberg) -- Semiconductor stocks tumbled for a third consecutive session on Friday as an upbeat earnings report from Broadcom Inc. proved no match for trade war and macro-economic anxieties.
The Philadelphia Semiconductor Index fell 3.7 percent, making the three-day slide the worst since October 2014. The 30-member group is down 9 percent over that period. Broadcom was the only company in the index to gain on Friday as investors remain worried about relations between the U.S. and China in the aftermath of the arrest of Huawei Technologies Chief Financial Officer Wanzhou Meng.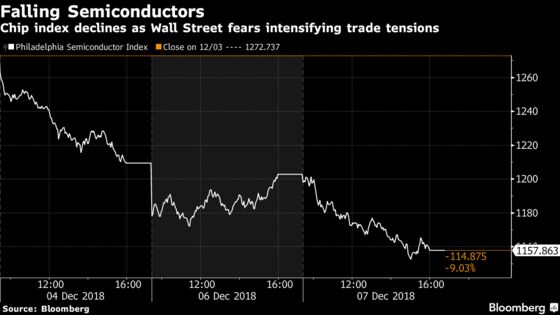 The decline in semiconductor stocks "is more of a risk-off trade rather than any specific or new fundamental driver that we got wind of last night," Cascend Securities Chief Investment Strategic Eric Ross said in an interview. Meng's arrest was "more aggressive than I would have expected" and risks inflaming trade tensions between the world's two biggest economies, he said.
Advanced Micro Devices Inc. was the worst performing stock in the index Friday with a decline of 8.6 percent. The Santa Clara, California-based chipmaker still leads all other S&P 500 companies this year with a gain of 89 percent. Cross-town rival Nvidia Corp. tumbled 6.8 percent.