Goldman Sees Only Headwinds for Semiconductors
(Bloomberg) -- Semiconductor stocks are sliding after analysts at Goldman Sachs Group Inc. and Stifel Nicolaus & Co. warned about a potential peak in makers of chips and the equipment used to produce them.
Supply and pricing issues that have plagued memory chip and other manufacturers may worsen into 2019, Goldman Sachs' Mark Delaney said in a note to clients. The downturn, which comes after nine quarters of growth, will probably be less severe than past slowdowns, he said. In a separate note, Goldman analysts including Toshiya Hari cut semiconductor capital equipment stocks to neutral from attractive amid concern that excessive supply in dynamic random-access memory chips will crimp 2018-2019 capital spending.
"We now envision a more broad-based correction in memory capex in 2019, as memory manufacturers digest what we perceive to be excess capacity in NAND and to a lesser extent DRAM," Hari wrote in a note to clients. "We are currently modeling a mild downturn in 2019/2020 particularly in relation to downturns witnessed prior to 2010."
Micron Technology Inc. fell almost 6 percent after Delaney cut the stock rating to neutral from buy, slashing the price target to $50 from $68. Delaney also chopped price targets for Western Digital to $63 from $80 and Seagate to $39 from $44. Separately, analysts including Hari cut Lam Research Corp. to neutral from buy, cut SK Hynix Inc. and Tokyo Electron Ltd. to neutral from buy and removed Entegris Inc., Samsung Electronics and Sumco Corp. from Goldman's conviction list.
Lam Research is down 3.9 percent, Entegris tumbled 7.3 percent, while Applied Materials Inc. retreated 4.6 percent. The Philadelphia Semiconductor Index dropped 2.9 percent in a second day of declines, testing its 200-day average.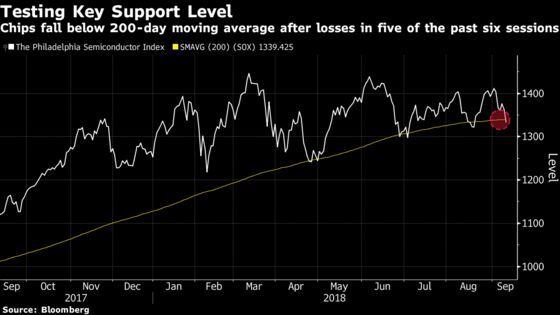 Stifel analyst Tore Svanberg made a few downgrades as well. In a note titled "Growing Signs of Potential Peak," he cut his call for four stocks: NXP Semiconductors and Macom Technology Solutions to sell from hold; Maxim Integrated Products Inc. and Power Integrations Inc. to hold from buy. Svanberg cut his recommendation amid growing signs of a potential peak in the analog- and mixed-signal semiconductor markets.
What else makes him concerned? Tariff-related uncertainties, below-seasonal industry growth trends and rising interest rates that hurt companies burdened with too much debt.