Semiconductor Investors See Cause for Optimism After Recent Rout
(Bloomberg) -- Investors are turning more positive on the semiconductor industry as they look past demand concerns and start to see value following a bruising October.
The Philadelphia Semiconductor Index is off 17 percent from its March record, including a 12 percent rout in October. Analysts say the recent slump has priced in a variety of risks and left stocks undervalued. Furthermore, while some chip categories have seen weakness, the industry overall has been expanding, making it less vulnerable to a slowdown in any single product.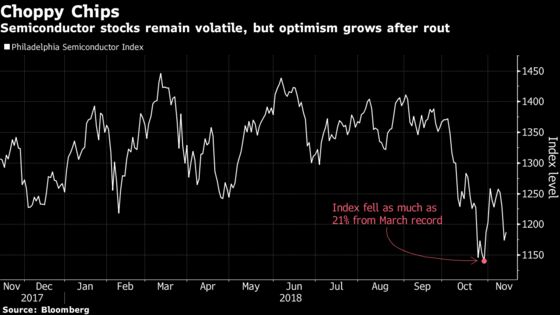 Trading has been volatile this week, with a 4.4 percent drop in Monday's session followed by a rebound of as much as 3.4 percent Tuesday. The semiconductor index was up 1.5 percent at 3:04 p.m. in New York. Investors say the bulk of the pain could be over.
"I've become quite optimistic," said Paul Wick, portfolio manager of the $5.7 billion Columbia Seligman Communications & Information Fund. "This is an extraordinarily profitable industry that's trading at valuations that are among the cheapest in the S&P 500, and the companies are bending over backwards to buy back their shares. There are issues, to be sure, but I think they've been priced in."
"There's a 90 percent chance that the low we saw in October will hold for the rest of the year," Wick said in an interview last week.
Analysts said that despite some high-profile disappointments during the earnings season, companies such as ON Semiconductor Corp. and NXP Semiconductors NV had more reassuring views.
"People thought that Texas Instruments would be the base-case scenario, but it was really more of a dour case," said Craig A. Ellis, a semiconductor analyst at B. Riley FBR. "There are still issues, but companies are already looking ahead and investors can begin to take advantage of what has become really attractive entry points."
In particular, Ellis cited results from Microchip Technology Inc., which rallied after results that analysts said eased concerns about inventory levels.
"Microchip is a canary in the coal mine for analog chips, which are a canary for semiconductors broadly," he said, affirming his buy rating on the stock. "Microchip distinguished between the relatively weaker industries, like autos and industrials, and the stronger ones, like communications, data center, and defense and aero. That specificity is a more benign view of the fundamental risk out there than we heard from TI."
The next catalysts for semiconductor stocks are fast approaching. Nvidia Corp. and Applied Materials Inc. are both scheduled to report results Thursday afternoon. Investors are also paying close attention to an upcoming meeting between President Donald Trump and Chinese President Xi Jinping, where the two are expected to discuss trade relations.
"The key question is whether the rebound we've seen over the past two weeks are green shoots or just a head fake. There's still so much uncertainty," said Chris Caso, a semiconductor analyst at Raymond James.