Semiconductor ETFs Surge Amid Renewed Trade War Optimism
(Bloomberg) -- Semiconductor exchange-traded funds rallied Tuesday, clawing back some of their losses from Monday's rout, as hopes rose for progress in the U.S.-China trade dispute.
The $787 million VanEck Vectors Semiconductor ETF, known by its ticker SMH, and the $1.2 billion iShares PHLX Semiconductor ETF, ticker SOXX, both were up more than 1.5 percent in afternoon trading on speculation that the U.S. and China are making headway on trade. Chips were the best performing group in the S&P 500 Index, rising around 1.8 percent compared with little change in the broader benchmark. SMH declined 4.4 percent on Monday, while SOXX retreated 4.5 percent.
"Hope for China trade progress was sparked by news reports in the South China Morning Post that their lead trade negotiator was flying over," said Dave Lutz, managing director of JonesTrading. "Sparked a cover in the tech sector, notably semis."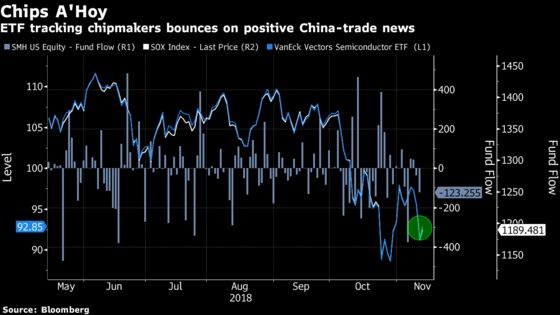 White House economic adviser Larry Kudlow said in a televised interview that the U.S. and China are talking "at all levels" of government regarding trade. The comments followed reports that China's Vice Premier Liu He will pave the way for a meeting between leaders of the two countries later this month.
Chip companies are deeply enmeshed in some of the world's most complex supply chains, making them particularly vulnerable to trade disputes. The stocks have been going through a rough patch recently, in part due to the ongoing tiff between the U.S. and China. SMH saw more than $123 million flee Monday as tech shares tumbled amid rising concern about the impact of Apple Inc.'s weak iPhone demand on suppliers.
But the shares were rallying on Tuesday. Intel Corp., the biggest holding in SMH, added 1.7 percent. Taiwan Semiconductor Manufacturing Co., the ETF's second-largest position, rose about 1.1 percent, snapping a three-day losing streak. And Nvidia Corp., which rounds out the fund's top three stocks, surged more than 5 percent.
"The semiconductor space has been one of the most technically oversold among all of the industry groups," said James Pillow, managing director at Moors & Cabot Inc. "So I imagine that today's bounce is selling exhaustion, coupled with a glimmer of hope for a U.S.-China trade deal."