Selloff Spurs Boutique Swedish Bank to Buy Europe Stocks for the First Time in a Year
(Bloomberg) -- Battered markets turned out to be exactly what Sweden's Erik Penser Bank AB needed to get back into European stocks.
For the first time in almost a year, the asset manager bought European equities this month, Jonas Thulin, the Stockholm-based bank's head of asset management, said by phone.
The slide at the end of 2018 was a "very exaggerated, flow-controlled reaction," he said. "A vicious cycle where one outflow led to another."
At Erik Penser, a privately owned bank with 32 billion kronor ($3.55 billion) under management, the conclusion is that selloff was mainly driven by changes to U.S. taxes, including rules for hedge funds, with little recession risk to validate the slide.
"We have to go as far back as to the financial crisis to see a similar outflow from equities," Thulin said. While pessimism is pervasive in the market, Thulin said there's no reason to be three times as negative now as after the Lehman crash as shown by an uncertainty index.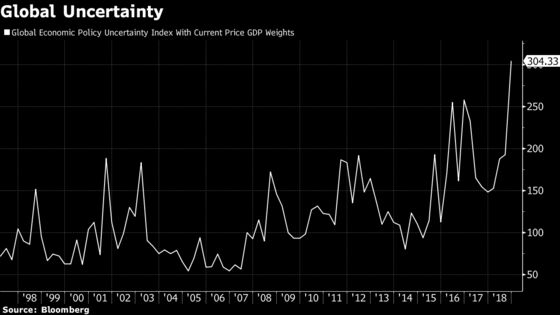 Now, Europe's valuations, price-to-earnings ratio compared with global ones or the U.S., are very low.
"Europe drives the uncertainty, not the U.S.," said Thulin. "Europe has become concerned, negative and stressed."
Penser has added stocks from Sweden, Italy, Germany, France and the Netherlands. It also snapped up stocks in the U.K., which despite Brexit concerns has underlying fundamentals versus Europe that "look pretty good," Thulin said.
Sector-wise, Erik Penser prefers retail, engineering and construction. Preferred companies include Sweden's Peab AB and JM AB, as well as Italy's Enav SpA and Saras SpA.
"We want to access the heart of cyclical, and with high-dividend companies," Thulin said.