Selling Pressure in U.S. Stocks Is More Extreme, More Often
(Bloomberg) -- The ferocity of the U.S. stock rout on Wednesday sent a measure of selling pressure to near the most extreme on record -- an occurrence that's become increasingly frequent in the past two months.
The number of shares falling on the New York Stock Exchange exceeded those rising by 1,957 at the height of the selloff, sending the NYSE TICK Index to the second-lowest level since June. The gauge registered its most extreme reading ever that month, and has come close six times since then.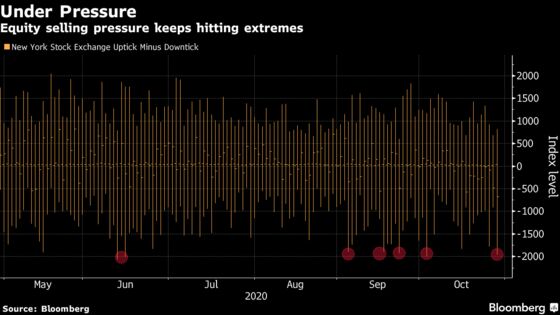 The resurgent pandemic, lack of new U.S. stimulus and looming presidential election are all contributing to investor nervousness. Combined with this year's equity rebound and elevated volatility, it is leaving traders ready to hit the "sell" button.
Wednesday was the worst day for the U.S benchmark equity gauge since the TICK Index hit the record in June. The S&P 500 slumped 3.5% as all but 15 companies finished in the red.
On Thursday, the gauge rose 0.6% at 10:19 a.m. in New York, still well down for the week.