Is the Emerging Markets Sell-Off Over? Fund Sees Biggest Inflow In a Year
(Bloomberg) -- The largest ETF tracking emerging-market local currency bonds pulled in the most cash since June 2017 on Tuesday, in a sign investors may be tip-toeing back to the asset class after a five-month rout.
The $6.1 billion iShares JP Morgan EM Local Government Bond exchange-traded fund received $169 million, after losing about a quarter of total assets since early April.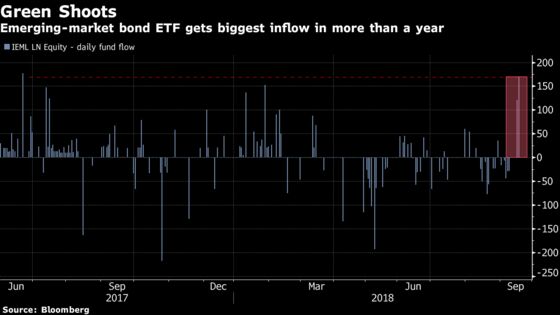 The inflow adds to signs developing markets may be turning a corner after a slide unprecedented since the financial crisis, spurred by the stronger dollar and the global trade war.
BlackRock Inc. said this week that emerging-market debt offers a "very good entry point" for investors, citing a tentative peak in the greenback and easing idiosyncratic risks.